Description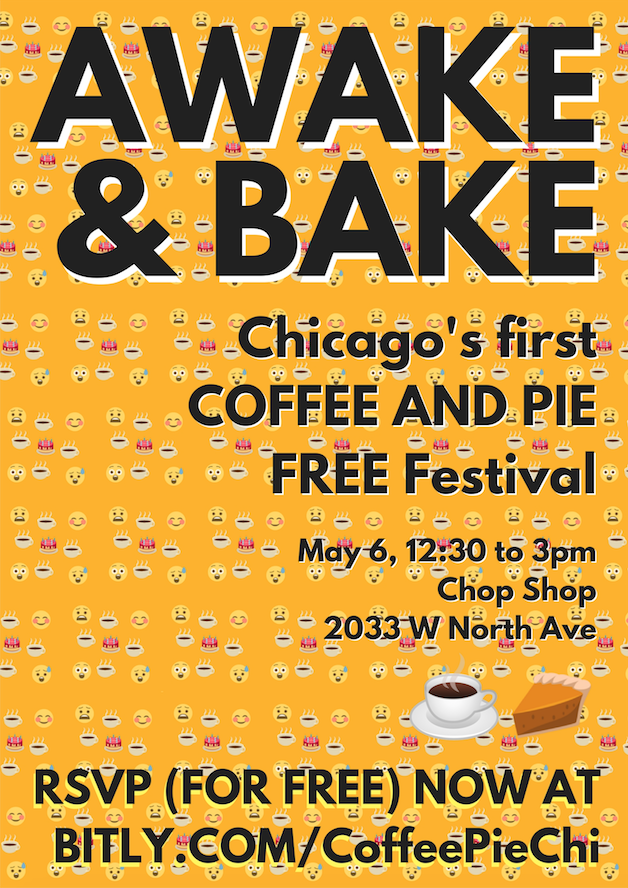 NOTE: If you'd like to bring a +1, please have them RSVP for their own FREE ticket here!
--
Chicago, we can't stress this enough: Winter is almost over. We know, we're as excited as you are. Maybe even more so. Did we mentioned we're excited?!?

However, we're not quite there yet. We're going to need one last jolt to push us into spring. Thankfully, the guys from Chicago's own Javaya Craft Coffee Marketplace and Brewpass are going to help us by introducing Chicago's newest Sunday Funday Festival called Awake & Bake Fest! Coming on the heels of Cinco de Mayo, Awake & Bake brings together two of your fave's - the BEST local craft coffee and pie that Chicago has to offer....and we're pairing them together so you don't have to! So peel yourself out of bed on May 6th and get on down to Chop Shop to check it out!

PLEASE NOTE: To come, you MUST RSVP FOR FREE HERE. So get on it!
--
AWAKE & BAKE FESTIVAL
Chicago's first FREE Coffee and Pie Festival

RSVP now or no coffee and pie for you. We'll see you on the 6th...
--