AW Healthy Living Event

Friday, April 1, 2011 at 9:30 AM (CDT)
Event Details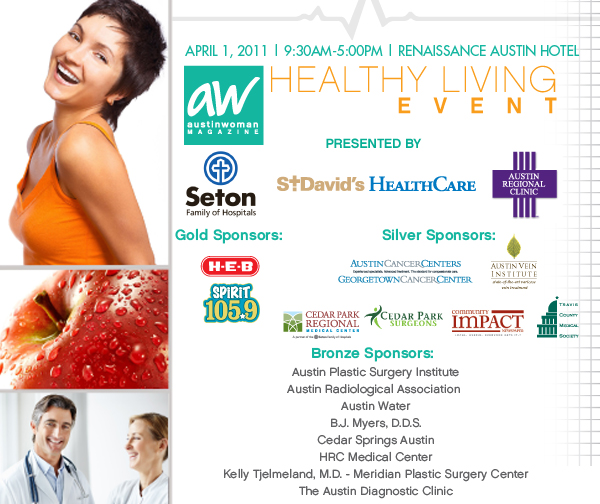 Come for a session or stay all day!
9:30 a.m.: Registration Opens
10:00 a.m.: Event kick-off with Susie Davis
- Susie tells you how to live healthy from the inside out
11:00-11:45: Morning Breakout sessions
1. Sexual Health Panel: Shelley Imholte, LCSW, Dr. Sandeep Mistry and Dr. Deb Kern answer questions about sexual health
2. Fitness/ Weight loss: Wendy Morgan, RD, LD and exercise specialist, Mark Langendorf talk about weight loss
3. Healthy Living by Decade/ Menopause and Hormones: Dr. Mousumi Chanda-Kim teaches you what to watch for as you age in physical and hormonal health
12:00 p.m. - 1:00 p.m.: Casual box lunch with Loral Langemeier 
- Loral tells everyone how to stay financially healthy
1:00 p.m. - 1:30 p.m.: Book signing, vendor time, meet the Physicians
1:30 p.m. - 2:15 p.m.: Afternoon Breakout sessions 
1. Children's Health: Dr. Kelly G. Thorstad and Dr. Caron E. Farrell answers all your questions about your kids' physical and mental health
2. Fertility: Dr. Kavoussi and Dr. Moghadam answer questions about male and female fertility
3. Eating Healthy: Dietician Tarie Beldin tells you what to eat and what to avoid!
2:15 p.m. - 2:45 p.m.: Vendors and Physician Meet and Greet
2:45 p.m. - 3:30 p.m.: Doctor Panel answers attendee questions
1. Cardiologist: Dr. Suzanne Wetherold
2. Dermatologist: Dr. Steven Rasmussen
3. Radiologist: Dr. Sarah Avery
4. Oncologist: Dr. Boone Goodgame
5. OBGYN: Dr. Jennifer Goss
6. Bariatrics: Dr. Tim Faulkenberry
3:30 p.m. - 3:45 p.m.: Wrap up/ drawings etc
4:00 p.m. - 5:00 p.m.: Vendor mingle, Physician Meet + Greet + Healthy Cocktail Cash Bar.
All throughout the day: prize giveaways!
Check out these great prizes:
Roxann's Specialty Boutique: Purse- $250
Serenity Wig Spa: Gift Certificate- $150
BrightStar: 20 hours of caregiver services- $400
Bj Myers D.D.S.:  Sonicare toothbrush and Zoom whitening- $740
My Fit Foods: Gift Certificate- $100
Verizon: Samsung Continuum- $579.99
Dominion Golf Group: River Place, Onion Creek Complimentary Round for up to 4 ppl (excluding cart fee) at each club- $800
Kelly Tjelmeland, M.D.: Meridian Plastic Surgery Center: Two $200 Meridian Skin Care Clinic Gift Cards for any skin care treatment- $400
Kelly Tjelmeland, M.D.: Meridian Plastic Surgery Center: One Vivite Skin Care Travel Kit with a $75 Meridian Skin Care Clinic Gift Card for any skin care treatment $75
Cedar Park Surgeons, PA: a Gift Basket of Goodies (lotion, soap, body spray) with a coupon for a Free Medical Weight Loss Consultation.
Sullivan Physical Therapy: one hour therapeutic massage- $75
Facelogic Spa: One hour custom facial with Microdermabrasion
Reavis Rehab: One Acupuncture Session- $90
Reavis Rehab: One-hour massage- $65
Meet the Doctor Vendors:
• Austin Diagnostic Clinic
• Austin Vein Institute state-of-the-art varicose vein treatment
• B.J. Myers, D.D.S.
• Cedar Park Regional Medical Center
• Cedar Park Surgeons
• Piazza Plastic Surgery
• Powers Family Wellness Center
• SpineAustin
• The Austin Center for
  Breast Care
• Vitalogy Skin Care
Vendors:
• Austin Cancer Centers
• Austin Plastic Surgery Institute
• Austin Radiological Association
• Austin Regional Clinic
• Austin Water
• BrightStar
• Cedar Park Regional Medical Center
• Cedar Springs
• Community Impact
• Facelogic
• Genworth Financial
• H.E.B.
• HRC Medical Center
• IntelliBED
• Kelly Tjelmeland, M.D. - Meridian Plastic Surgery
• My Fit Foods
• Paradise Cosmetic Med Spa
• Parker Wig Spa  
• Seton Family of Hospitals
• St. David's HealthCare

• Sullivan Physical Therapy
• Texas Women in Business
•  Villa Salon & Spa
• WellMed
When & Where
9721 Arboretum Boulevard
Austin, 78759


Friday, April 1, 2011 at 9:30 AM (CDT)
Add to my calendar