Avoid 3 Massive Mistakes Passionate People Make That Destroy Their Dreams a...
Description
A FREE Workshop for Passionate People Wanting to Unlock Their Potential and Succeed
Take control of your life's future at this powerful workshop. Based on the teachings of Sandra's book Get What You REALLY Want Without the Guilt, this workshop is designed to give you insight, motivation, and focus, as well as life-changing strategies to transform every area of your life.
Join us to discover how to:
▪️ Use "The Hidden Factor" to remove obstacles and blocks
▪️ Conquer fear by implementing 2 fear-busting strategies
▪️ Unlock your potential with a useful 3-STEP SYSTEM
▪️ And much more!
Sandra's Upcoming Workshops:
Wed., Oct. 18 in Lacey from 7:00 pm to 9:00 pm
Thurs., Nov. 9 in Lacey from 5:00 pm to 9:00 pm
Fri., Dec. 15 in Lacey from 11:00 am to 1:00 pm
Transformational Training From a Personal Growth Expert
Now's the time to do something to help you grow. Imagine being able to get up in the morning grateful for your life and excited to live the life you were meant to live. Sandra Smith is someone who went from welfare to entrepreneurship, but did everything the hard way. Because of her struggles and pain, she developed an easy and fun method to help you overcome your obstacles and live an authentic life.
Receive a Valuable Gift Just for Attending!
You'll be one of the first to receive a copy of Sandra's latest book Achieve Personal Success. It's a step-by-step guide to creating your ideal life according to your Personal Code.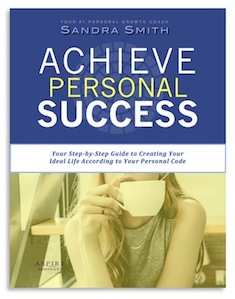 Push Your Passion Forward by Taking Sandra's Workshop
Don't miss out on this opportunity to learn Sandra's personal growth secrets and connect with other passionate people.

Register now for this amazing FREE 3-hour workshop. You can register on Eventbrite, or call 360-389-3370. Sandra's website is www.sandrasmith.com.

We look forward to being part of your life's journey!

Feedback From Workshop Attendees
"Sandra got me over my fear of success! Now I have my own business." -Debra W.

"I got help making some crucial decisions and the insight to make it happen." -Valerie D.

"My stress is lower and my energy is increased. I'm ready to move on now." -Tonya S.

About Sandra Smith
Sandra Smith believes that when you're solid and happy on the inside, everything else is better on the outside. As a passionate Personal Growth coach and speaker, Sandra helps you create your Ideal Life according to your Personal Code. She owns Aspire Seminars, is an award-winning speaker, the author of two books, and a certified coach. Her clients range from entrepreneurs to corporate employees. As part of her mission to give back, she helps single mothers on welfare become self-sustaining women. If you want to live your Best life, Sandra is ready to help you make that happen!



www.sandrasmith.com | sandra@sandrasmith.com