Description
Time to celebrate a new year, set intentions and honour your calling to live with purpose! Avidgirlboss, is a transformational movement created by Belinda Jane, who is living with purpose, honouring her calling to empower women worldwide to #JUSTB! To love your Self as you are right now, and to live life on your terms, unapologetically!
It's time to own your awesome power and show up in the world unapologetically, authentically YOU. Manifest exactly what you desire, many of the #AGBTribe have done exactly this and will continue to do so. Show up to #AGBAuckland and learn how. It is about getting real with your Self, it's about celebrating your feminine energy and trusting your intuition. It's about living life on your terms!
Whether you choose to come along for business or personal, it's totally up to you! We would be honoured to have you there! It's about listening to your Soul whispers, those thoughts we have that drive us to be and do better, to step up and make decisions that will change our lives in a positive way.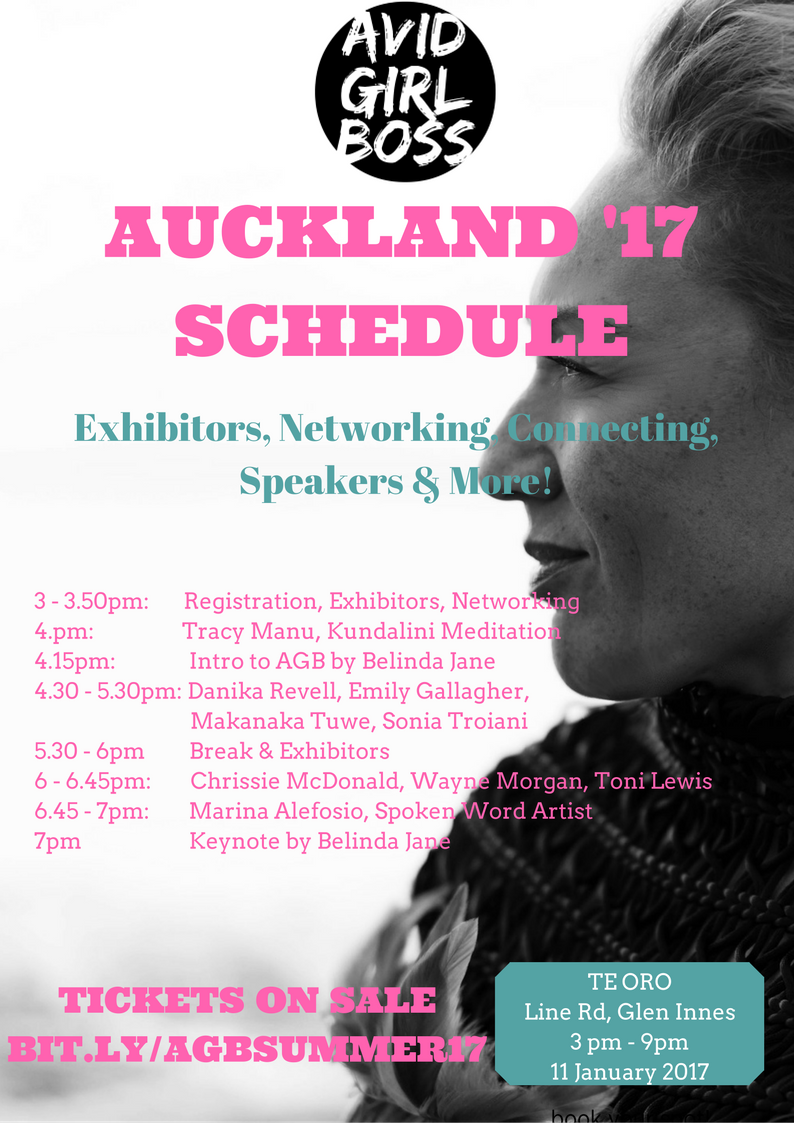 Belinda is so excited to bring AVIDGIRLBOSS back full circle, to where it all started. Belinda is a powerhouse catalyst for change, and through her stories and messages, empowers you on your journey of self-discovery, enlightenment and transformation to make those changes you may have only "hoped" for, or wished you could make happen.
Along with special guests, this event is for you #AGBTribe, take the chance to learn more about your Self. You are living an awesome life, you are going for your dreams and just want to be the best version of YOU that you can be. You know there is more to life than just working 9 - 5 and paying bills.
This event is all about living with abundance!
You are an Avidgirlboss - 100% unapologetically YOU. #JUSTB

You are a woman with worth. You deserve every dream you have ever desired, that you have ever dared to dream.

This isn't about having the biggest or the best. This is about being able to live YOUR life with every heartbeat, every breath, every ounce of your being in alignment with your mental picture of how you have always seen your most wonderful life. In full colour, in all its glory.
Feedback from #AGBTribe
"Belinda is a model example of a human, woman, working towards your own goals and dreams using that 'special' gift that everyone is born with. An advocate for 'mainstream can get fckd' because only you know what path and what decisions you should be making to achieve what you need to achieve." Jen F.
"Wow, you, you beautiful woman rocked me at my core last night. Your event is truly ground breaking. Those strong, brave, inspiring women standing up there with you last night stirred so much emotion within me, YOUR message is SO strong. I'm so glad you decided not to "shhh" because the world freaking needs you! ❤
I'm just at the very beginnings of finding my voice, speaking my truth and owning my story, so your event could not have come at a better time. Wow I have so much love for you and your cause, THANK YOU so much, you are truly amazing." Amy W
"An AGB is a woman in control of her life. The boss over her own destiny. A wise woman, a woman who uses all of her attributes to become the person she chooses to become. A woman who finds solutions to any negative influences in her life. A woman who surrounds herself with like-minded persons, and rids of those who do not believe in her." Bee H.
"It really exceeded my expectations. I felt encouraged to speak my truth, connect with others in a meaningful way, and be vulnerable." Latesha R.
"Belinda is an innovative and inspired business woman on a mission to raise up and empower others to recognise and step into their own power. I purchased my ticket because I was interested in what Belinda has been able to achieve in business and I thought it would be an awesome networking opportunity. However what I received was much more than that. The evening was about getting to the heart of everyone in the room, allowing everyone to connect as humans and souls first. In this busy world where everyone has a timeline and an agenda that is a rare and precious thing. Thank you Belinda for giving this to all of us." Jo L.
So grab your ticket and then join us on Facebook where we will be sharing more about the evening. Invite your friends along!
FAQs
Ticket Options
Limited seats so grab yours today!
What time do the speakers start?
Registration and networking from 3pm, with a 4pm start. There will be a variety of amazing speakers, all with their own unique outlook on the world and business.
Where can I contact the organiser with any questions?
You can contact hello@avidgirlboss.com or find us on Facebook
Is my registration/ticket transferrable?
Yes absolutely!
Refund Policy
Tickets cannot be refunded, exchanged or cancelled once issued except in accordance with the applicable laws of New Zealand.
Where is the venue?
Central Auckland, exact venue to be confirmed closer to the date.