Description
lacpug meets are now made possible by

Next lacpug Meet is Wednesday, August 23, 2017
beginning at 6:45PM
- till we drop at the Gallery Theatre in Hollywood Ca.

Avid, Fusion 9 and Final Cut Pro X Night
Join us for another informative, fun and air conditioned lacpug Meet, Wednesday, August 23, 2017.
Join us as we welcome back Michael Krulik of Avid to show off Media Composer | First
Also Larry Jordan returns with a bunch of 3rd party plug-ins for FCPX you need to have and need to see.
Also, An Introduction to Blackmagic Fusion 9 from VFX Guru Damian Allen
Plus more. Grab a seat now!
---
Agenda (subject to change and availability)
6:45- 7:15PM - Stump the Gurus
Join Gurus Patrick Southern, Misha Tenenbaum, Adam Bedford and Jason Bowdach as they will attempt to answer all of your questions and solve all of your problems concerning FCS and FCPX, Avid, Premiere Pro and anything else you can think of. If they can't solve your problem or answer your question, then you go home with a problem, but you still got out of the house, so that's not a bad thing.
7:20PM - 7:25PM - Announcements
This is your time, assuming we have time. New to LA? Say Hello. Got a movie you want people to see? Tell us about it. Looking for a job? Tell us. Offering a job? Tell us.

7:25PM - 7:55PM - Introducing Fusion 9 - Damian Allen.
Fusion is the world's most advanced compositing software for visual effects artists, broadcast and motion graphic designers, and 3D animators. Over the last 30 years, Fusion has been used on thousands of Hollywood blockbuster movies and television shows. Fusion features a powerful node based interface that lets you quickly and easily create sophisticated effects by connecting different types of image processing tools together! You get a massive range of tools, incredible VR and 3D support, GPU accelerated performance, unlimited network rendering and more! Fusion gives you everything you need to create exciting broadcast graphics, dramatic titles, and even major feature film visual effects!
About Damian Allen
Damian Allen is well known in the visual effects industry as a leading technique and technology consultant. As president of Pixerati he provides both creative consulting and pipeline development for visual effects and creative agencies in Hollywood and abroad.
As a visual effects artist, Allen remains immersed in the process of visual effects work, supervising teams of up to 30 compositors, as well has having direct hands on shots in tentpole features. He specializes in picture lock emergencies and is frequently called in to fix last minute stereoscopic and cosmetic issues.
Allen has authored three books on the subject of visual effects: The Encyclopedia of Visual Effects (ISBN-13: 978-0321303349), Apple ProTraining Series Motion (ISBN-13: 978-0321278265, ISBN-13: 978-0321509109) and the Shake Quick Reference Guide (ISBN-13: 978-0321382467). He has lectured around the world on visual effects compositing theory and practical application.
With their acquisition of the Shake visual effects package in 2002, Allen was contracted directly by Apple Inc. as a consultant to visual effects and motion picture studios around the world, aiding in the implementation of Shake into their production pipelines. In 2006, Allen was contracted by Apple to help steer the future development of their Shake and Motion compositing platforms.
In the capacity of software design architect, Allen was the principle developer and designer of BiVergenceTM, a proprietary 2D-3D Conversion system that became the core technology of 3DRevolution and was used in the conversion of Cats and Dogs II, Priest 3D, and the Immortals 3D.

7:55PM - 8:30PM - Avid Media Composer | First - Michael Krulik
Avid Media Composer | First – The FREE, full-featured video editing tool is here! Avid Product Solutions Specialist Michael Krulik will demo just how easy it is to cut and share content with Avid's latest tool – perfect for students, aspiring filmmakers, and vloggers. See how quickly you can cut together footage, utilize tons of visual effects, transitions, and audio tools, and quickly publish to YouTube and Vimeo.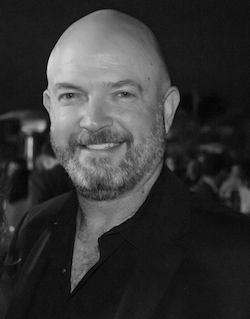 About Michael Krulik
Avid Principal Solutions Specialist
Michael started working with and presenting non-linear technology with the first PC editing system called EMC (Editing Machines Corporation) after getting his start in the early days of Computer Graphics. As Non-linear technology evolved, he used, demonstrated and trained on Media 100, Panasonic's PostBox, Softimage DS and, of course, Avid.
For over 20 years, Michael has worked with the Film, Television and Broadcast industry and has devoted most of his career to working with manufacturers of cutting edge technology. He has worked with the American Cinema Editors and moderated several panels with top TV and Film editors at ACE's EditFestLA as well as presenting customers and technologies at NAB, IBC, SuperMeet, SMPTE and other trade shows and industry events.
Technology has come a long way since he would carry his punch cards down to the mainframe computer to run his program.


8:30- 8:55PM - Break
This is the most important part of the show. It's networking time. This is a great opportunity to not only ask questions and get problems solved, but to meet people that just might change your life. Edit5 Consoles will be in lobby showing off Editing tables and chairs. Get to the Gallery early for this one. Snack bar wil be open for sodas, water, wine, chips and beer. I hope.
8:55PM - 9:35PM - Tools To Make Apple Final Cut Pro X Fly!! - Larry Jordan
This month, legendary trainer Larry Jordan joins us to show us tools to make editing in Final Cut Pro X easier. Discover plug-ins and stand-alone applications that can help with library and media management, along with other plug-ins that will help you do things that you can't do any other way.
Larry plans to demo products from:
* ArcticWhiteness
* Lesspain
* Coremelt
* And as many others as he can cram into his presentation.
Larry will show you ways to make Final Cut Pro X fly!


About Larry Jordan
Larry Jordan is a producer, director, editor, author, and Apple Certified Trainer in Digital Media with more than 35 year's experience with national broadcast and corporate credits. Based in Los Angeles, he's a member of the Directors Guild of America and the Producers Guild of America, as well as recognized as one of the Top Corporate Producers in America. He's written eight books on Apple and Adobe audio and video software, plus thousands of technical articles, and created hundreds of hours of on-line training.
He is a noted speaker at events across the world and the executive producer and host of Digital Production BuZZ, a weekly audio podcast devoted to digital video production and post. Visit his website at: larryjordan.com.


9:40PM - 9:50PM - Show and Tell
If we have time
---