Description
FOR MAXIMUM NETWORKING, EDUCATION, AND POLICY BRAINSTORMING, REGISTER FOR ALL THREE EVENTS.
SEPT 21: UDC Urban Agriculture Summit: Healthy Cities, Healthy People
SEPT 22: AVF Summit: The Policies Needed to Mainstream Vertical Farming
SEPT 23: AVF Networking Breakast, Policy Meetings, D.C. Urban Farming Tour
---
It is with great pleasure that the Association for Vertical Farming (AVF) would like to invite you to its annual summit in Washington, D.C. on September 22nd.
The summit will be held in conjunction with the University of the District of Columbia's Agricultural Summit (September 21st).
Every year, the AVF enables a rich assortment of companies, city planners, research institutions and governmental bodies to exchange their experiences, perspectives, and ideas in the field of vertical farming. This year, the AVF and UDC want to talk policy.
The AVF is a growing international non-profit organization on a mission to foster the sustainable growth and development of the vertical farming movement. The association boasts a platform for active dialogue and advocacy and a framework for education outreach and standardization. But how to put these valuable ideas into practice and gain visibility in policy-making?
The AVF is excited to present a day-long summit with focused lectures, panels, and breakout sessions on the future of vertical farming and the policies needed to sustainably scale the industry. This fall, we invite you to learn how to leverage your position to affect policy on the local, federal, and international levels. As an attendee, you will hear from industry leaders and discuss their strategies to streamline business opportunities. We would like you to network with vertical farming professionals to learn about new and exciting prospects in this growing field. Finally, we would like you to share your ideas and propose strategies for vertical farming policy
AVF Summit Agenda (September 22nd)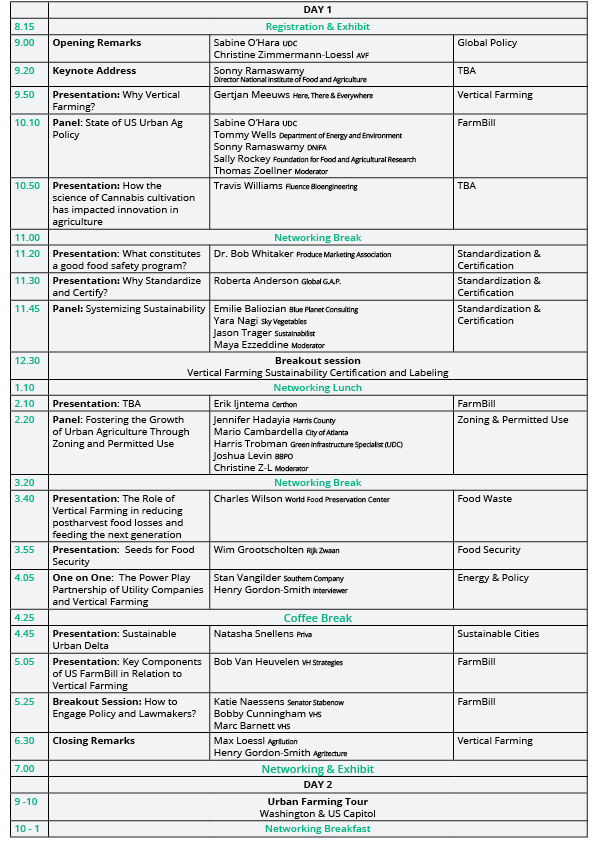 Promocodes for AVF Summit:
Please email hgs@vertical-farming.net for promocodes if you: (1) are a member of the AVF (2) have a ticket to #NYCAgTechWeek and (3) are a student. There are a limited number of first-come-first-serve free tickets for UDC staff and students.
DC Agriculture Summit (September 21)
The 2017 CAUSES Urban Agriculture & Vertical Farming Summit welcomes the Association for Vertical Farming and others to share success stories in urban agriculture. The summit will be held on September 21st and bring a rich array of private sector companies, public sector institutions, non-profit organizations, research institutions and other interested parties to the Van Ness campus of the University of the District of Columbia to exchange ideas, experiences, and visions in the field of urban agriculture and vertical farming. This year, the AVF and UDC want to talk policy to remove barriers that stand in the way of the expanding story of Urban Agriculture. This event is free and will be held on September 21st, the day before the AVF Summit.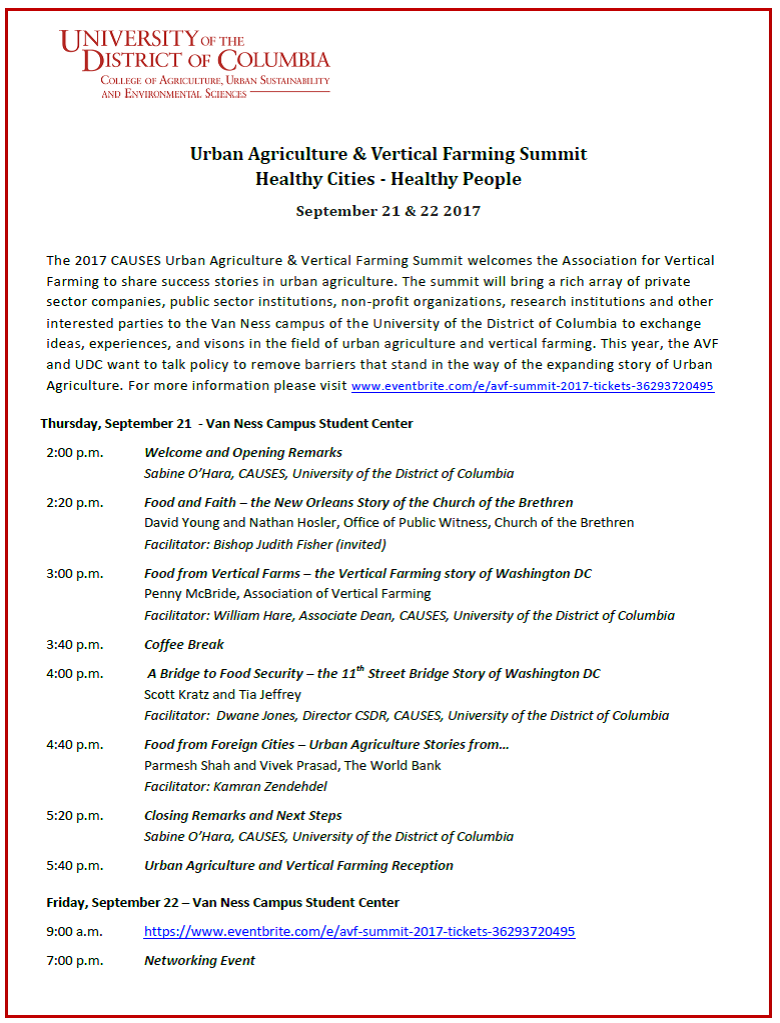 * Please note: your AVF membership will need to be active.
* Students must email from a university address to be eligible for the discount.
* Please include your NYC AgTech Week ticket to be eligible for the promocode.
* Please note: only one promocode can be used.
*Entry to the UDC Summit is FREE. Please register for your ticket in advance.
Hotel Recommendations near UDC:
Days Inn, 4400 Connecticut Ave NW, Washington, DC 20008
The Kalorama Guest House, 2700 Cathedral Ave NW, Washington, DC 20008
Marriott Warman Park, 2660 Woodley Rd NW, Washington, DC 20008