Location
Avery Brewing Company
5763 Arapahoe Ave.
Boulder, CO 80303
Description
Our alley has served us well for 21 years. We've gone from making 800 barrels of beer a year to 50,000, from 3 annual beer styles to 22 and counting, from 3 employees to 93 and counting, and from a 6-car-garage brewhouse to a series of 6-car-garages. We will love our alley forever, but we need to keep following our dreams!
For our last anniversary party in our original location, Adam Avery is digging deep into his cellar and is pulling out rare and vintage beers to share with you!
Many thanks to you for assisting us in realizing our dream,
The Avery Brewing Crew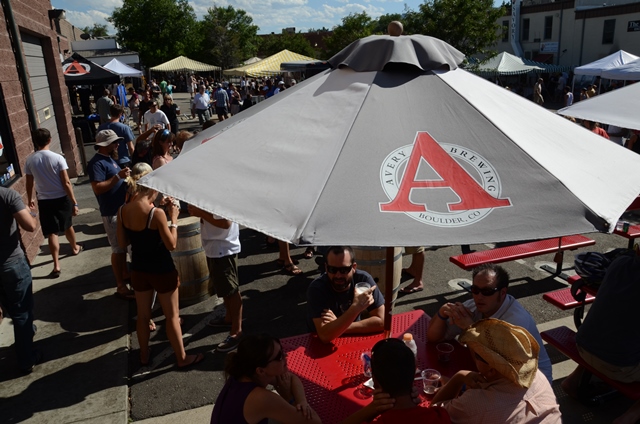 ---
You've got questions, we've got answers!
What comes with my ticket?
Six beers plus a commemorative glass and live music from Paa Kow's By All Means Band and Liebermonster!
What do I get with my six drink tickets?
One ticket is good for a 12oz pour of beers <8% ABV, an 8oz pour of beers >8% ABV, and a 4oz pour of barrel-aged beers. Check out the beer list on Facebook!
Will additional drink tickets be available?
Yes! And as with everything else, proceeds will go to charity.
What charity is this event benefiting?
Proceeds benefit the Meyer family. Our good friend Matt Meyer has been in the craft beer scene for years and has a three-year-old son with Acute Lymphoblastic Leukemia. Their family is amazingly strong but needs help during Owen's long-term battle. We donate the proceeds from all of our festivals to organizations in our community, but we especially love helping individuals, and we are so pleased to be able to give back to Matt who gives so much to the craft community!
Will there be food available?
Food trucks will be offering a smattering of delicious dining options! In the past, food has been included in the ticket price, but we have gotten numerous requests over the years for a bigger variety of food options, and food trucks will offer this!
Are children, babies, or dogs allowed?
We can no longer allow children or babies, so please get a sitter for your little ones...this includes non-human children, so please get a dog-sitter, too!
What are my transportation options for getting to the event?
There is very limited parking, so please bike or take the bus!
Do I have to bring my printed ticket?
No, you may save time and paper and bring your ticket on your wicked smaht phone!
What time is last call?
We'll ring the last-call bell at 4:30, and no beer will be served after 4:45.
Is my ticket transferrable?
Yes! The name on the ticket does not need to match the name on the ID.
What is the refund policy?
Because the we donate the proceeds from all our festivals to charity, we do not issue refunds. Thank you for your understanding and support!