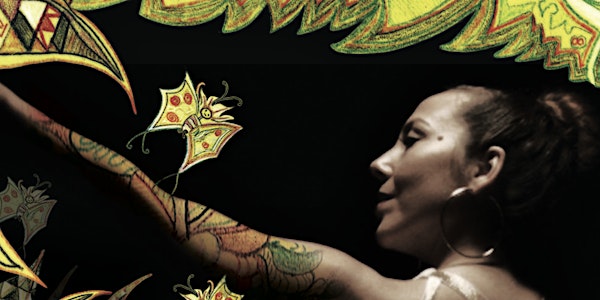 Aventurera Album Release Show live
When and where
Location
The Uptown Nightclub! 1928 Telegraph Avenue Oakland, CA 94612
Refund Policy
Contact the organizer to request a refund.
Description
Aventurera Album Release Show live @ THE UPTOWN - Saturday April 9th, 2016
Aventurera album is groundbreaking in its richness, representing the synergy of collaborations with talented independent San Francisco Bay area artists and beyond. *10 tracks (+ 2 bonus tracks), in English, Spanish and French. 90% recorded & produced at RAZTERIA's own, Truffula Oak Studio, mixed by James Ward, of Live Oak Studio in Berkeley, and mastered by Justin Weiss of Trakworx. Two of the tunes (Change, Little Sister) were mixed at Kinyama Sounds, a Suisse based label. Aventurera is currently charting on CMJ new world music chart.
LINE UP
RAZTERIA (aka Renee Asteria) & Fyah Squad Band featuring Kata of Locura, Empress Unification, Seneca & Chatterbox
Pasto Seco
Rahman Jamaal

DJ Leydis
About the artists:
Razteria aka Renee Asteria
Official site http://razteria.com
EPK http://reneeasteria4.wix.com/razteria-epk
Facebook http://facebook.com/reneeasteriamusic
San Francisco, CA, based artist Razteria (aka Renee Asteria) can be described as a fusion of No Doubt, Bomba Estereo, Los Aterciopelados, Steel Pulse and Marisa Monte. Her multicultural background (born in the USA of Bolivian-Dutch heritage and raised in France) has had a profound influence on her musical journey. Performing in English, Spanish, French and Portuguese, her music has been described as 'musically adventurous' and 'one of a kind, breaking all rules,' uniting Reggae, passionate Latin grooves, Rock, powerful messages and some real musical genius.

Razteria is known for her simple yet intricate songs, her signature ethereal harmonies and fat bass-lines. Over the past ten years, Razteria, performing under both Razteria and Renee Asteria, has planted musical seeds throughout the Americas (Argentina, Bolivia, Canada, and USA) and Europe (France, Switzerland). In late 2015 Razteria completed her fifth album Aventurera, which will be available as of March 18, 2016 on digital platforms worldwide and in select stores. Aventurera is currently charting on CMJ New World Music.

Razteria has opened for and performed with Grammy award winning Reggae artist Michael Rose, popular UK/JA lover's rock Lloyd Brown, The Garifuna Collective from Belize and others. Noteworthy performances include Reggae on the River, World One Festival, World Fest Los Angeles, Northwest World Reggae Festival and the Montreal Jazz festival, to name a few. Her music has been licensed by MTV's True Life series as well as a few independent films.


Fyah Squad Band
Fyah Squad Band is a Reggae, Funk, & Soul band based in the San Francisco Bay Area. They work with local artists and are one of the top as a backing bands for touring artists in the area. Founding members Waddell Bell (bassie) and Lou Neuburger (drums) are jazz trained musicians who have specialized in Reggae. Artists we currently work with: Rocker T ~ JuniorToots ~ Empress Meditations ~ Razteria ~ Messenjah Selah ~ Irae Divine ~ Sol Atash and more. Touring Artists we have backed: Wayne Wonder and more. https://www.facebook.com/FyahSquadBand
Pasto Seco
Pasto Seco is a Latin American dance band pulling from traditional central, south american and caribbean styles to bring people together in celebration. Based in the San Francisco East Bay, they have an all-star 14 member band, who hail from Colombia, Chile, Mexico, US, Bolivia and Argentina. Pasto Seco has blessed the stage at many prominent SF bay area venues bringing the dance party wherever they go. Through their affiliation with "Yes for Schools" they work with youth helping to expose them to the richness of Latin American culture. Pasto Seco is currently in process of process of producing their first album. http://www.pastosecoband.com/
DJ Leydis
DJ Leydis was born and raised in Cuba. Involved in the Cuban HIP HOP movement since it's inception, DJ Leydis helped organized some of the country's most respected and attended events and community programs. In 2005, she co-founded Omegas Kilay. A Hip-Hop Theater Collective in Havana Cuba, Omegas Kilay focused on presenting the poetry, music, experiences and perspectives of artists such as DJ Yari, Danay Suarez, Nono, La LLave De IPG, La Negra, and Las Krudas.
Along with her partner DJ Yari, DJ Leydis created the first all female DJ Mixtape in Cuba, contributing a special blend of new flavor and spirit to the international community. In addition, she performed across Cuba as the official Spoken Word Artist of Rande Acosta's Platos Rosa.
DJ Leydis has also been a featured subject of critically acclaimed and groundbreaking documentaries such as Inventos: Hip Hop Cubano, Jovenes Rebeldes y Mi Revolution, and continues to be an keynote speaker on the subject of Cuban Hip-Hop Culture.
In 2006, DJ Leydis migrated to United States to expand upon her work as a DJ. Based in the San Francisco Bay Area, she has worked with Erykah Badu, Quest Love of the Roots, and other iconic American artists. Presently working on tour with Los Rakas & Las Krudas, DJ Leydis combines contemporary hits with an distinct fusion of Latin flavors, R&B classics and Roots Reggae blends.

www.losrokas.com www.laskrudas.com
Rahman Jamaal
Rahman Jamaal is a performing artist, emcee, musician, actor, and educator who first debuted in the 2003 Sundance Film Festival as the star of the movie "The Beat". Rahman Jamaal performs for Rondavoux Records, the San Jose-based rap group Projekt S.E.E.R., and the Redwood City-based funk/rock tribute band Blood Sugar Sex Machine. He works with musicians and youth in the Bay Area as founder of the Rap Force Academy, and nationally as the Executive Director of Hip Hop Congress. He also works with organization such as with The Riekes Center for Human Enhancement, The Bring It Back Tour, The Hip Hop Chess Federation, Performing Arts Workshop, StoryTeller Project, and All-Star Karate Center. In 2014, he won the Lennon Award for Hip Hop in the International John Lennon Songwriting Contest (JLSC). http://facebook.com/rahmanjamaal / http://www.rapforceacademy.com / http://www.hiphopcongress.com
Seneca Raised in Florida, lyricist, singer producer and Dancehall artist Seneca Schachter has made the Bay Area home since 2003 And has been rocking stages since 2000. He has always combined activism and Hip Hop culture to uplift and entertain! He has also established himself as a prolific producer, working with such artists as Myka 9, Dead prez And Bicasso. He is a long time member of the Jazz Mafia and Earth Amplified, touring the Jazz festival circuit and performing over 500 times. He also is a Member of Hip Hop for Change and ROTC hosting every few months at ROTC's weekly cypher at the Boom Boom Room. He has shared stages with Stevie wonder, Mos Def , Chali Tuna , Will.i.am, Lyrics Born and many more!! Look out for his next project "The Wheel" an ode to real And raw Hip Hop of the 90's Simple Beats and rhymes. Earthamplified.com
Where: Uptown Nightclub 1928 Telegraph Ave, Oakland CA
*No refunds