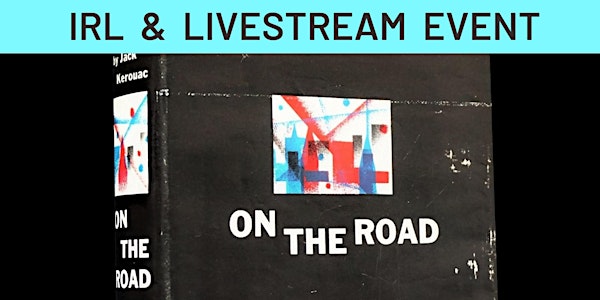 AVAILABLE NOW: 'On the Road' Reading with Music: Recording of LIVESTREAM
A diverse cast reads excerpts from Jack Kerouac's classic novel supported by a jazz quartet led by David Amram. Directed by David Deblinger
By The Village Trip Festival
Date and time
Starts on Monday, July 31 · 12pm PDT
Refund Policy
Contact the organizer to request a refund.
Eventbrite's fee is nonrefundable.
About this event
This recording was made on September 17, 2022. It is available to purchase until the end of July 2023.
The event took place at The Strand in the Rare Book Room, New York, and was livestreamed via Youtube.
A diverse cast including Stephanie Berry, Kevin Corrigan, John Doman, Marsha Mason, Dael Orlandersmith, Mercedes Ruehl, Jose Rivera and John Ventimiglia read excerpts from Jack Kerouac's classic novel On the Road, accompanied by a jazz quartet led by the legendary David Amram and directed by David Delinger. In 1957, Amram and Kerouac brought jazz + poetry to New York City, playing at venues across the Village.
Produced in collaboration with HB Studio.
Directed by actor, writer, director and educator David Deblinger of HB Studio, this unique event is part of Jack Kerouac 100 at The Village Trip, a celebration of the acclaimed novelist and poet in Downtown Manhattan, where he wrote much of his greatest work and where he was living when his most celebrated novel was published.
"When I think of On the Road, I think of when my son was four or five and we'd walk the one long block to the supermarket… he'd drop to the ground and just become enthralled with the earth, insects, pebbles, twigs… Like there was this incredibly complex and beautiful world that he wanted to touch and play with for forty-five minutes at least, while us adults have no time or interest in it," reflects David Deblinger. On the Road is relevant, still, because the words are fueled with a desire to connect and understand and honor each 'precious and holy moment' we have left.
"I'm excited to put together a group of powerhouse artists to voice some of those beautiful words, at the same place Kerouac hung out – The Strand – almost seventy years ago, and actually have his friend David Amram who was there playing music here now, playing once again.
"To gather together to celebrate this masterpiece...I can't think of a better way to spend a Saturday afternoon."
Directed by David Deblinger
With music by David Amram, Adam Amram, Rene Hart, Kevin Twigg
About the organizer
The Village Trip – A Festival Celebrating Arts & Activism in Greenwich Village – takes place from Saturday, September 10 through Sunday September 25, 2022. Some fifty events – walks, tours, talks, discussions and folk, rock, jazz and classical and new music – across the Village, from Washington Square Park to Tompkins Square Park. An exciting big-tent family-friendly program with events for people of all ages and interests.