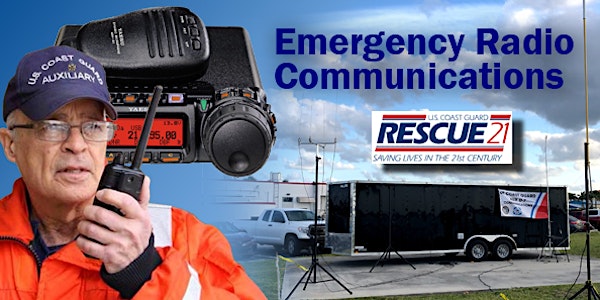 AUXCOM - Auxiliary Communications (USCG Auxiliary Only) Fall 2021 Every Wed
AUXCOM, the Auxiliary Communications Specialty course Wed Oct 20, 27, Nov 3, 10, 17, Dec 4
About this event
The concepts presented in this course are fundamental to all operational certifications. Boat Crew, Coxswain, Air Crew , Pilot and TCO Telecommunications operator all require a high level of competency in communications.
You can achieve success as an AUXCOM Specialist by passing a closed book, proctored examination with a score of 75% or better.
AUXCOM is one of the 3 core courses required to achieve your AUXOP qualification.
Chapter 1. Basic Marine Radiotelephone Systems.
Chapter 2. Voluntarily Installed Marine Radiotelephone Stations Regulations.
Chapter 3. Calling and Answering Procedures.
Chapter 4. Distress, Urgency, and Safety Messages & Devices.
Chapter 5. Auxiliary Communication System.
Chapter 6. Messages.
Chapter 7. The Radiotelephone Log.
Chapter 8. Coast Guard Communications.
Chapter 9. Radio Direction Finding.
Chapter 10. Rescue 21.
Chapter 11. Communications Staff Officer Responsibilities.