Autumn on the Delaware: River Town Tour (Lambertville to Frenchtown walk)
Description
17 mile walk from Lambertville to Frenchtown, NJ
Autumn on the Delaware: Enjoy the stunning fall foliage along the Delaware River!
This peaceful walk along canal towpaths on both sides of the Delaware starts in the heart of Lambertville and New Hope, and follows the Delaware Canal up to Stockton, a small cozy town on the Delaware three miles away. The Stockton Farm Market is a popular spot to get a quick bite or check out some interesting goods to take with you, with many fine artisanal vendors inside. We will continue upriver, pass through Bull's Island Recreation Area and walk the only footbridge in the area that crosses the Delaware. From Lumberville, the Delaware Canal Park towpath will take us through the hamlets of Point Pleasant and Uhlerstown, where we cross back over into Frenchtown.
Frenchtown is know for some very good cafes and restaurants. It is also the home of author and free spirit, Elizabeth Gilbert, of Eat Pray Love fame. Over the years the town has had a reputation for interesting antiques and curios, led by Gilbert's large Asian artifacts shop called Two Buttons, which unfortunately closed recently. Seems even Gilbert and her famed lover have a need to move on...
We'll celebrate completion of our journey with dessert at the Bridge Cafe, with milkshakes, egg creams and more, bid Jim a farewell and find our way home.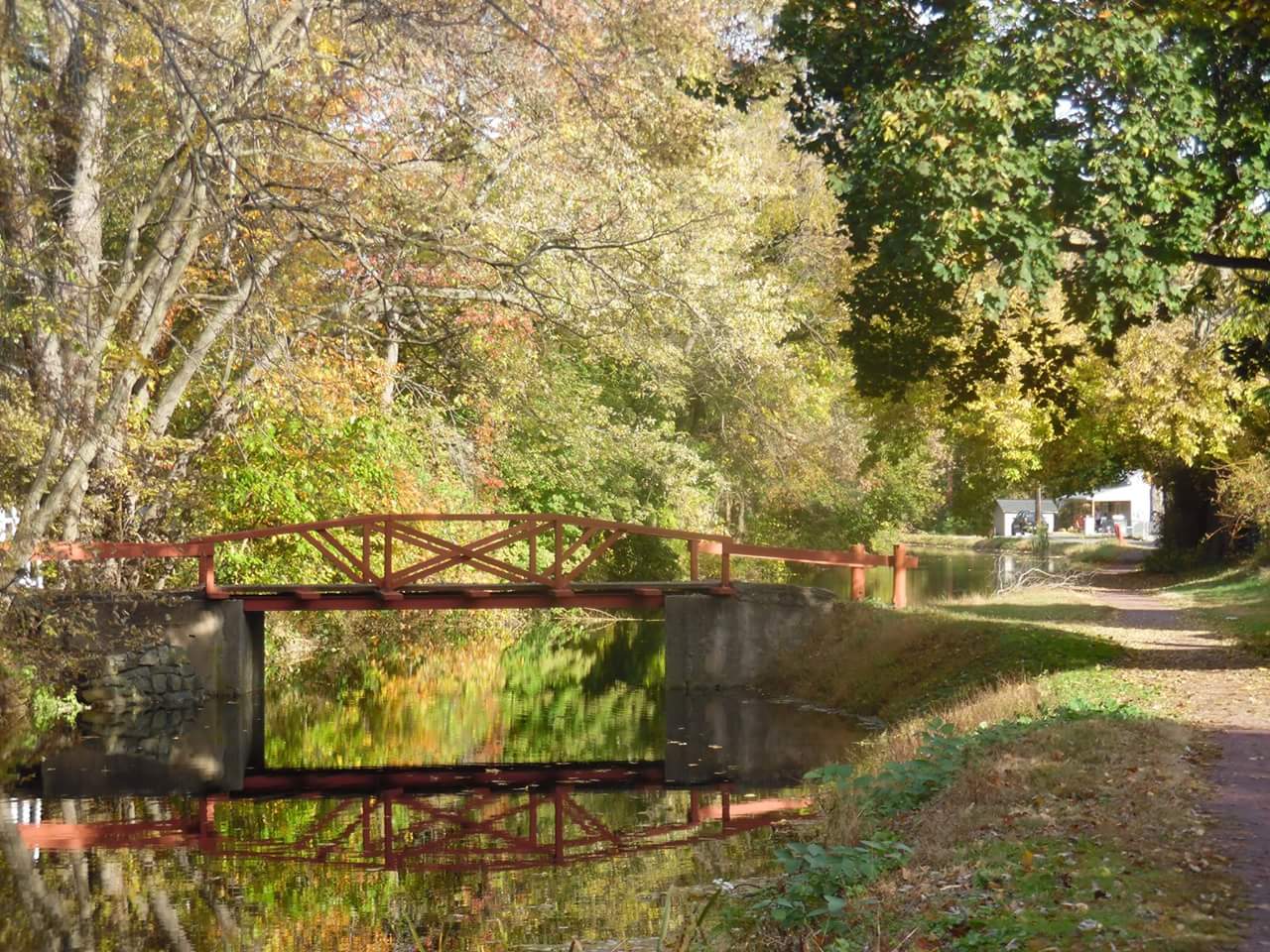 Event carpooling and logistics to be arranged.
Some highlights along the way:

New Hope

Stockton Farm Market

Bull's Island Recreation Area

Lumberville footbridge

Point Plesant Village Shop

Uhlerstown

Frenchtown's Bridge Cafe
---
Question: How do I get back from the end of a walk?
Answer: By train. For Washington's Footsteps and River Towns that depends on a car ride back. We can help coordinate
Carpooling
Unfortunately, traveling away from the urban areas presents a problem of getting back. We are requesting anyone who is attending to let us know if they would be wiling to either drive back to the start or take someone who will park at the end to the start. This way we will have vehicles at the end waiting to take others back. It takes a bit of coordination but can work fine. Let us know if you are interested in helping out.

For Your interest or Questions Contact: Charles Updike - crusoft@aol.com 916-225-0569
---
The "Autumn on the Delaware" series of walks follows the Delaware River and its canals at its most colorful time of year, and is designed to support our fellow cross-country ultra-hiker, Jim Gregoire, get across PA and NJ as he tries to complete a South-to-North walking excursion along the East Coast. He has been walking about 15 to 20 miles each day for many weeks. We figure the FreeWalkers can help him get through his walk with some spirited company for at least these four days. We will publish other days in Jim's itinerary so you may coordinate with him if you desire. Make plans to join us any day you can.
Autumn on the Delaware series:

Thu Oct 20: Pennypack Trail - 21mi Philadelphia (Fox Chase) to Bristol PA - Along the Pennypack Creek and the East Coast Greenway
Fri Oct 21: Bristol Stomp - 16mi Bristol to Trenton NJ - Along the Delaware Canal, a repeat of our March event
Sat Oct 22: In Washington's Footsteps - 17mi Trenton to Lambertville/New Hope - Towpath walk with stops at Washington Crossing and Bowman Hill
Sun Oct 23: River Town Tour - 17mi Lambertville to Frenchtown NJ - through Stockton, Lumberville and Point Pleasant
Visti FreeWalkers.org for more walks like this....