Location
Washington Retreat House
4000 Harewood Road NE
Washington DC, 20017
Description
My mind is like the autumn moon
Shining clearly in the jade pool
Nothing can compare with it
How shall I explain it?
—Han Shan
A powerful weekend of insight awaits guests at the historic Washington Retreat House Oct. 5-8. Here, the Franciscan Sisters of Atonement host our sangha, or practice community, in a silent Zen retreat for all levels of practitioners: includes sitting, chanting, walking meditation, Dharma talks and the opportunity to meet privately with a teacher. Three nights, all meals included.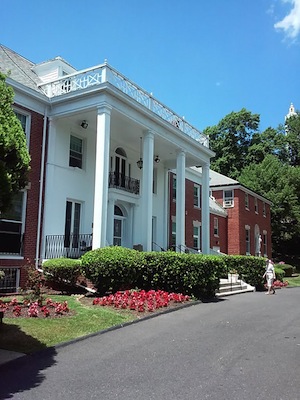 The Retreat House (shown above) offers simple, single rooms connected by a full bath. Room assignments will assure same-gender shared baths; if you are attending with a friend you may request side-by-side rooms during registration. It is a place of peace and rest adjoining the campus of Catholic University, near the landmark Basilica (shown below) and convenient to airports.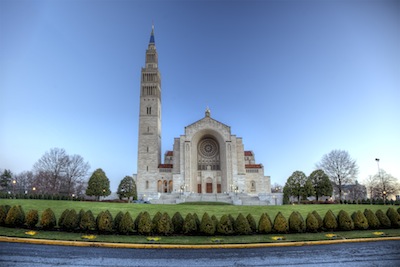 Please bring your own zafu or sitting bench and zabuton or folded blanket to place under you while you sit. Chairs are provided. Wear dark, loose-fitting clothing suitable for sitting on the floor and easy on-and-off shoes.
Meals will be mostly vegetarian. If you have other dietary restrictions, the Sisters will endeavor to accommodate them. This is the first time they have hosted a Buddhist group and they will do everything they can to make us comfortable.
FAQs
What can/can't I bring to the event?
Bring your own zafu or sitting bench; zabuton or folded quilt to sit on; practice clothing including warm socks; toiletries; and all-weather outerwear. Please leave unnecessary electronics at home and prepare to practice silence.

What are the meal options?
Most meals will be vegetarian. If you require a gluten-free or dairy-free diet, you will have the option to ask for that during the registration process and the Retreat Center will try to accommodate special requests.

What is the refund policy?
Reservations are refundable with two months' advance notice. Please delay your registration until you can commit to attend.
Where can I contact the organizer with any questions?
By email: karenmiller@earthlink.net