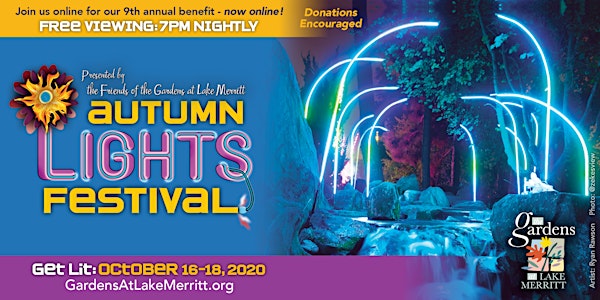 Autumn Lights Festival 2020; Friday-TECH, Saturday-FAMILY, Sunday-FINE ART
Autumn Lights Festival 2020. Each night features different artists and a theme. Friday-TECH, Saturday-FAMILY, Sunday-FINE ART
About this event
Join us for Autumn Lights Festival 2020 ─ a one-of-a-kind interactive art experience. This year, our ever-popular annual tradition goes virtual with three nights of FREE presentations on October 16, 17 and 18.
This 9th annual benefit for our nonprofit Friends of the Gardens at Lake Merritt will showcase illuminated art along with an in depth conversation with some of the artists about their inspiration and the creation process. Consider a donation and check out our cool thank you gifts at the bottom of this page.
This year's virtual event comes to life through video, demos and live chat, treating you to an exciting, behind-the-scenes experience with the artists of the Autumn Lights Festival. Join the fun!
Each night has a specific thematic element starting with a fully produced video presentation followed by a live discussion and presentations by featured artists.
Friday's theme is TECHNOLOGY; Saturday's theme is FAMILY NIGHT, and Sunday's theme is FINE ART.
Each night's event will be broadcast live on YouTube for FREE, made possible by the generous sponsorship from Niantic. The annual Autumn Lights Festival is a fundraiser for the Friends of the Gardens at Lake Merritt and proceeds support the ongoing, year-round work of this vital non-profit organization. The Friends mission is to support garden revitalization through volunteerism, funding and special projects, ensuring these gardens remain a vibrant, relevant part of urban life in Oakland.
Click Select a Date above and then click the Tickets button to register for the FREE LiveStream. And please consider a donation to support this annual fundraiser for the Friends of the Gardens at Lake Merritt. We have some amazing thank you gifts for contributors that join us at the $50 or higher level. Click the Select A Date button, then Tickets to check out the options and to learn more about the contribution levels and thank you gifts.