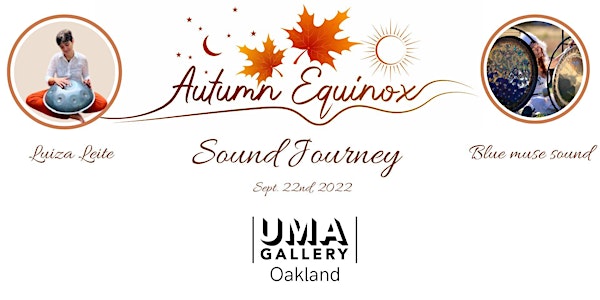 Autumn Equinox Sound Journey Oakland
Dive into the primordial sound current and soak in the celestial sounds, deep vibrations and healing energy of an Equinox Sound Journey
When and where
Location
UMA Gallery Oakland 3630 Telegraph Avenue Oakland, CA 94609
Refund Policy
Contact the organizer to request a refund.
Eventbrite's fee is nonrefundable.
About this event
On this Exquisite Day, as we align with the change Of seasons, join Blue Muse Sound Healing & Luiza Leite
As we dive into the primordial sound current and soak in the celestial sounds, deep vibrations and healing energy of a Sound Bath with 4 Paiste gongs, crystal singing bowls, chimes, hand pans, drums and rattles & more
Let us bring the body, mind and spirit into alignment, melting away all stress and tension and stabilizing our bodies and minds in a place of equilibrium.
Please bring water, Yoga mat, Items for our community Equinox Altar are warmly welcomed.
Autumnal Equinox is a day of equal day and night, marking the start of the autumn season and the halfway point between summer and winter. In many cultures, the Autumnal Equinox is a mythical and auspicious event, and a potent time to conduct healing work.
According to Greek mythology, Autumn begins when goddess Persephone returns to the Underworld to live with her husband, Hades. It is also believed that during the Autumnal Equinox, one can stand an egg on its end, a mystical sign of balance.
It's a sacred time to seek protection and a clean slate on which to start fresh for the season ahead. Additionally you can tap into its motivational cosmic force to embark on change, and reflect upon your own harvest—what you've taken in and what you need to let go of, cultivating a healthy balance to bring you the ultimate, abundant season ahead.
Luiza is an Oakland based musician and mindfulness teacher from Rio de Janeiro, Brazil. She's been playing the handpan for the past 6 years, and is happy to share her musical gifts in numerous sound healing events throughout the Bay Area and the North Bay for the past few years. She teaches mindfulness at the Portal Community center in Berkeley regularly, is an enthusiastic dog mom that loves bringing people together in community.
Cassiopeia is an intuitive Sound Healing Practitioner living in the Coastal Redwood Forest of California. She is passionate about sharing the incredible medicine of Sound with all the healing it brings. This is her vision and her life path!
Raised in the Pacific Northwest, she began to work with Sound on her personal Journey in healing from cancer. She has been sharing this powerful vibrational medicine with others since 2015, after graduating from the Globe Institute of Sound and Consciousness in San Francisco. Her continued studies have led her to work with various Sound and Plant Medicine Master teachers in Brazil and Peru, as well as Gong Masters in the U.S. She is currently studying Harp, Percussion, Voice, and Ceremonial Music.
Cassiopeia leads weekly Sound Journeys in collaboration with The Celestial Voice in Sonoma County and numerous special events, private gatherings, festivals, workshops, and private sessions. Her highly attended weekly Lavender Labyrinth Sound Bath at Bees and Blooms Farm was recently featured in the Press Democrat Newspaper.
Her multi-instrumental sessions weave a deep tapestry of powerful vibrational healing for all involved. Aided by many sound allies such as Paiste gongs, Harp, Crystal and Tibetan singing bowls, Ocean and Native drums, and Chimes incorporating guided meditation and group Chakra Toning.
Bluemusesoundhealing.org