Description
Autumn Equinox One Day Urban Retreat with Fouzia Javaid of Inner Peace Wellness
10.30am-5pm,

22 September 2018

The Autumn Equinox is a very powerful time for inner growth, when Day & Night are equal in duration. Inner journeying on this auspicious day can help to cultivate inner Balance & Harmony, gain Clarity and allow you to access Deep Wisdom inside. Taking a pause, to honour this transition between the Seasons from Summer to Autumn allows you to:

☼ Reflect & Celebrate the Fruits of the Summer

☼ Contemplate what you are ready to Let go of as the Summer fades

☼ Bring attention to what you would like to Cultivate over the coming Autumn months

☼ Open your Heart, Anchor in your Divine Self & access your Inner Wisdom



Retreat includes:
Cacao Ceremony / Meditation / Yoga / Dance / Gong Bath / Silent Walking Meditation
Join me for this Autumn Equinox One Day Sacred Urban Retreat, taking a break from your daily life to connect back to your Deeper Self. An opportunity to create Space & find Stillness within. Journeying together in a Group in a Sacred space, provides a powerful alchemical chamber for Inner Growth & Transformation. Attuning yourself with the rhythms of Nature, as Summer moves to Autumn, can be a wonderful way of finding more Harmony, Peace, Clarity & discovering the deep Stillness that lies within. This is a small and intimate Retreat (12 places maximum), taking place in warm and cosy private location near Wandsworth Town/Clapham Junction (full address revealed upon booking), so please book early if you feel to join to guarantee a spot. Any questions please email Fouzia at frjavaid@gmail.com.


BENEFITS OF THIS ONE DAY RETREAT
This Sacred Autumn Equinox Retreat is for you if you would like to:
☼

Welcome Inner Balance & Harmony

☼

Open the Heart & Anchor in your Divine Self

☼

Restore Inner Connection & find Stillness within

☼

Honour the Transition between the Seasons from Summer to Autumn

☼

Celebrate the Fruits of Summer

☼

Let go of what needs to be shed to welcome the New

☼

Gain Clarity in what you would like to invite in your Life over the coming Autumn

☼

Accelerate Manifestation of your Intentions

☼

Gather in the Heart in Community.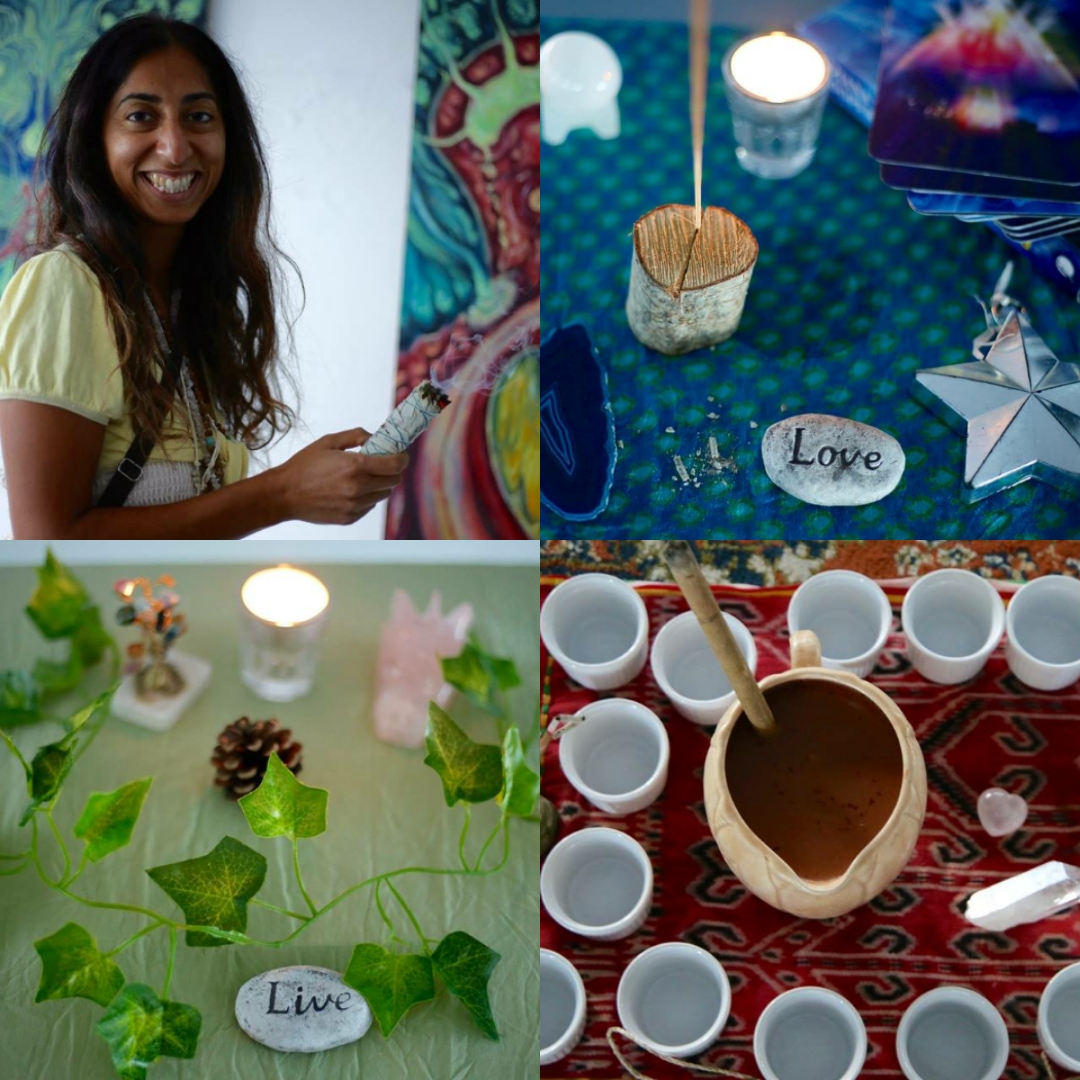 RETREAT PROGRAMME
Exact timings may change as I move intuitively with the Group.
☼ 10.30-10.45am - Arrival & Welcome to the Temple Space (complimentary Herbal teas on arrival)
☼ 11- 12.45pm - Opening Ceremony with Cacao, Intention setting, Guided Heart Meditation, Light Body activation, Movement Meditation to celebrate the fruits of your Harvest & welcome in the New
☼ 1-2pm- Lunch- Bring vegetarian or vegan food to share or for yourself (if good weather, lunch will be in a local park)
☼ 2-2.30pm- Silent Walking Meditation (in Nature if good weather)
☼ 3-4.30pm Meditative Hatha Yoga with Deep Guided Relaxation & Gong Bath
☼ 4.30-5pm Closing circle
After the Retreat, there is an option to go to an Ecstatic Dance session near Stoke Newington (advance booking needed & subject to space).
ABOUT ME
I Love nothing more than to enable people to become more aware of their Divine Heart Self and to remember the powerful creator that they are. We each have the power to manifest Infinite Possibilities and to live a life of Grace & Ease. To truly know ourselves is, I believe, the greatest gift we can offer to humanity. I Love to create a space in which others can connect to their deeper Heart Self, beyond the mind. My passion for empowering people to remember their Divine Infinite Self takes me to teaching Yoga, Meditation, facilitating wellbeing Workshops, Ceremonies including with Cacao & Ecstatic Dance, Conscious Festivals and Retreats & working One-to-One with Intuitive Coaching & Heart Healing sessions, Reiki, Breathwork, Indian Head Massage, Yoga Therapy & Meditation.
TESTIMONIALS

(of previous Yoga & Meditation Workshops, Retreats & Cacao Ceremonies)

"I have never met someone as warm, loving, understanding, patient and welcoming as Fouzia. She holds space like no other and I feel this is part of why I felt safe enough to release so much where I have not previously. I highly recommend all of her events, they are all always amazing and I always enjoy them more than most others. The Quantum Shift Party is my favourite event of the year in London! I do indeed feel like I had a deep quantum shift at her last cacao ceremony!" David, London

"I really love the sessions you do, they are the most powerful I have ever experienced." Arabella, London
"Joining Fouzia's sessions are always blissful, beautiful gatherings, amazing vibration, feeling peace, love and a deep sense of relief. Thank you."
"Fouzia is a fantastic teacher, very patient and attentive. Her classes are very gentle but incredibly powerful with a focus on the spiritual side of yoga that is often sadly neglected in the west. I feel like I've had an amazing healing after her classes. Highly recommended!" Suzanne, London
"I highly recommend Fouzia's classes for anyone wishing to go deeper on their path and leave calm and relaxed, where the feelings stay with you for a good few days after class. You will leave with a deep sense of peace as well as grounded, something much needed in hectic London life. Thank you." Tasha, London
"Fouzia is a gifted teacher of meditation and the living embodiment of its benefits. She radiates calm and compassion... and is an inspiration to anyone seeking self-improvement or simply the means to find stillness in our hectic modern world." Paul, London
"A beautiful loving experience as always...Fouzia radiates so much love and such warmth and guidance." Jenny, London
"Before the Cacao Ceremony, I had only been to two of your events (The Healing Garden Wellness Festival and a Yoga workshop) but each time I feel such a nurturing and held experience, and that is completely with thanks to your kind and healing energy and the lessons of the heart you so willingly and carefully share. Thank you for being such a giving teacher and reminding me to connect to the heart, over and over as many times as I need. The space you hold is an anchor in itself and helps to steady me for whatever the ocean may bring." Fiona, London
"A beautiful Cacao Ceremony - a beautiful evening, with beautiful souls...I floated home! "WOW!!!! What an experience!!! Sooo amazing....I felt "drunk" on heart centered love. And my sleep was soooo deep, I felt "drunk" on life - an inside experience - truly amazing! Fouzia Javaid facilitated the evening with love, heart and grace. Very, very tasty Cacao, the best I have EVER tasted! " Caroline, London
ENERGY EXCHANGE
A beautiful, nourishing day just for you, and all for the price of a 1 or 1.5 hour massage in London!


☼ £66 Limited Earlybird (til 16 Sept unless sold out before)
☼ £77 thereafter
☼ £65 each 2 friend's discount

☼ This is a small intimate Retreat. Space is limited to 12 places, so book early to guarantee a spot!
☼ Or pay via Paypal to frjavaid@gmail.com using the friends & family option.
There are no refunds, but you are welcome to transfer your spot to a friend.
GUIDANCE & WHAT TO BRING

In order to get the maximum benefit from the Cacao:
☼ Eat breakfast by 9am on the day of the Retreat and arrive hydrated
☼ Avoid caffeine & alcohol on the day of the Retreat
☼ Do your best to avoid alcohol, caffeine or any other intoxicants for a few days prior

☼ If you are taking anti depressants, please email me on frjavaid@gmail.com as these can be impacted by the Cacao

Please bring:
☼ A Yoga mat if you have one
☼ A blanket
☼ A pen and paper to take notes
☼ A bottle of water
☼ An open Heart and Mind :)
☼ For the altar and to assist with manifesting your intentions, bring something that is symbolic of something that you would like to let go of, and something that you would like to invite into your Life
☼ Wear comfortable clothes for sitting in and Yoga
☼ Warm jacket & clothes for outdoor silent walk & umbrella (just in case!)
Queries: email frjavaid@gmail.com or 07411 174247

FOR OTHER UPCOMING EVENTS I OFFER
☼ See: https://www.eventbrite.com/o/fouzia-javaid-7885666957
☼ Our Email Newsletter list is the best way to keep up to date with all events & offers- please email fravaid@gmail.com to be added
☼ Find us on Meetup: https://www.meetup.com/Cosmic-ConnectionsUK/
☼ Find us on FB & Instagram: Inner Peace Wellness