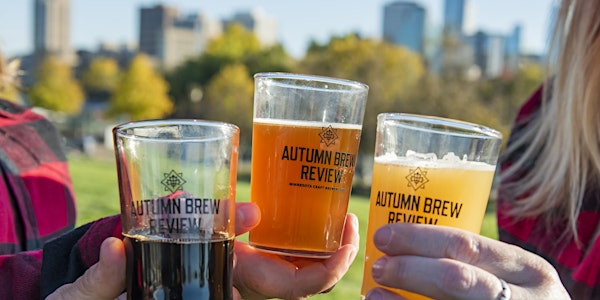 Autumn Brew Review 2022
A perfect October afternoon of autumn brews and winter warmers. Get unlimited samples from 95+ MN craft breweries and brewpubs!
When and where
Location
Boom Island Park 724 Sibley Street Northeast Minneapolis, MN 55413
About this event
Autumn Brew Review will be back at Boom Island Park in Minneapolis on October 15, 2022! Join 95+ MN craft breweries and brewpubs, 20 small businesses and food trucks, and thousands of craft beer fans for a cozy October festival with unlimited craft beer samples of all your fall favorites and winter previews!
Find more details about the festival, pouring breweries, entertainment, and activities on the ABR page on our website!
This event will take place outdoors, rain or shine.
Valid 21+ photo ID required for all.
No refunds on purchased tickets.
Want to volunteer with us? Get a free ticket to a future fest, or the rest of ABR after your shift! Sign Up Here!
Unlimited Samples from 95+ MN Craft Breweries and Brewpubs, including:
10K Brewing
56 Brewing
612 Brew
Alloy Brewing Company
Arbeiter Brewing Company
Bad Weather Brewing Company
Badger Hill Brewing
Bald Man Brewing
Barrel Theory Beer Company
Bauhaus Brew Labs
Bear Cave Brewing
Bent Brewstillery
Bent Paddle Brewing Company
Big Wood Brewery
Blacklist Brewing Co.
BlackStack Brewing
Block North Brewpub
Boathouse Brothers Brewing Co
Boom Island Brewing Company
Bootlegger Brewing Kombucha
Brau Brothers Brewing Company
Broken Clock Brewing Cooperative
Castle Danger Brewery
Chanhassen Brewing Company
Clutch Brewing Company
Dual Citizen Brewing
Duluth Cider
Eastlake Craft Brewery
Excelsior Brewing Company
Fair State Brewing Cooperative
Falling Knife Brewing Company
Fat Pants Brewing Co.
Finnegans Brewco
Forager Brewery
Forgotten Star Brewing Co.
Fulton Brewing
Garphish Brewing Company
Giesenbräu Bier Co.
GLUEK BEER
Goat Ridge Brewing Co
Gravity Storm Brewery
Hackamore Brewing Company
HeadFlyer Brewing
Heavy Rotation Brewing
High Pines Brewing Co.
Hoops Brewing
Hop & Barrel Brewing
Humble Forager Brewing Company
Imminent Brewing
Inbound BrewCo
Insight Brewing
Iron Exchange Tavern and Brewery
Jack Pine Brewery
Jinx Tea
Lake Monster Brewing
Lakes & Legends Brewing Company
Lift Bridge Brewing Company
Little Thistle Brewing Co
Luce Line Brewing Co.
Lupulin Brewing
Lynlake Brewery
Mankato Brewery
MetroNOME Brewery
Minnesota BEER Company
Modist Brewing Co
Montgomery Brewing Company
Moose Lake Brewing Co
Nine Mile Brewing Company
Nouvelle Brewing by Travail
OMNI Brewing
Portage Brewing Company
Pryes Brewing Company
Revelation Ale Works
Schell's Brewery
Shakopee Brewhall
Spilled Grain Brewhouse
Spiral Brewery
Steel Toe Brewing
Surly Brewing Company
The Freehouse
Third Street Brewhouse
Tilion Brewing Conpany
Torg Brewery
Uncommon Loon Brewing Company
UNDER PRESSURE BREWING COMPANY
Unmapped Brewing Co.
Ursa Minor Brewing
Utepils Brewing Company
Venn Brewing Company
Wabasha Brewing Company
Waconia Brewing Company
Wicked Wort Brewing Company
Wild Mind Ales
Wild State Cider
Wooden HIll Brewing Company
Wooden Ship Brewing Company