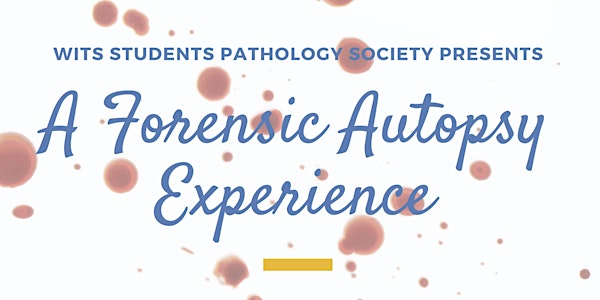 Autopsy Viewing 4
When and where
Location
Meet at Medical School. Travel to Braamfontein morgue thereafter. South Africa
Description
The Wits Students' Pathology Society will be providing GEMP 1 - 4 students with the opportunity to view a forensic autopsy in order to gain more insight into the medico-legal process.
Date: 31 August 2018
Time: Friday morning 8am-12pm (leave med school at 7:30am)
Who: GEMP 1 – GEMP 4 (Medical Students only)
No. Participants: 10 students
Transport: carpooling between all who signed up for a particular session will be organized
What to wear: long pants and closed shoes
Program:
7:30 – Meet outside medical school to leave for the Johannesburg medico-legal laboratory
8:00 – Arrive at the morgue and be met by Arielle (committee member of the society) for an introduction and tour; followed by a briefing session by Craig Keyes
8:30 – Gown for and attend autopsies
11:00 – Debriefing with Craig Keyes
11:45 – Depart for med school
12:00 – Arrive back at med school
If further counselling/debriefing is required by any attendee, you will be welcomed by OSS at PVT
Please note that only a small amount of students can be accommodated per session. Therefore, if you have RSVPed and are unable to attend, please inform the society as soon as possible, to provide another student with the opportunity.