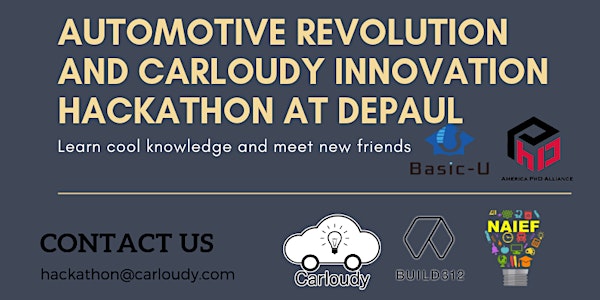 Automotive Revolution and Carloudy Innovation Hackathon at Depaul
Location
1 East Jackson Boulevard
1 East Jackson Boulevard
Chicago, IL 60604
Description
Description
Welcome to Carloudy Innovation Hackathon
It's a two-day long competition where all-star developers gather to create an eco-system around Carloudy.
Who Are We?
Carloudy is the world's first interactive head-up display (HUD) that works perfectly with any car model and in any weather condition. Through its voice control system, Carloudy can reduce dangerous distractions by searching destination and displaying key information, such as a car's speed and navigation directions, directly in the driver's line of sight. Carloudy works with Android and iPhone.
In this Hackathon, you can try Carloudy in person.
How This Works?
This Hackathon covers Apps Development and UI/UX Design
Apps Development
Participants have roughly 48 hours to churn out a creative App for Carloudy. Basic API will be provided.
UI/UX Design
Participants have roughly 48 hours to create an interface design. Basic elements will be provided.
Why Should I Attend?
Carloudy welcomes all innovative ideas and will capitalize on YOUR ideas in product development.
Winners will have the chance to attend BUILD312 Sino-US Pitch Competition in Chicago in November 2018 and NAAIE Competition in California in January 2019. Selective winners can present in China for government funding.
Time
Oct 16th, 2018, 3:30pm ~ 5:30pm
1 E Jackathon Blvd, North Center Cafe(Room 11042)
FAQs
What can I bring into the event?
IDs are required for the Carloudy test drive. Laptops are recommended.
Do you have to print my tickets?
No, we accept mobile tickets.
Who should I contact for additional questions?
You can email us at hackathon@carloudy.com