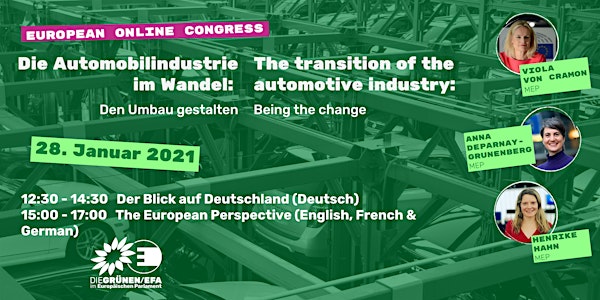 Automobilindustrie im Wandel (D) & Automotive Industry Transition in the EU
Automobilindustrie im Wandel: Den Umbau gestalten. The Transition of the Automotive Industry: Being the Change.
About this event
Please find the links below to join the events (they are the same for both parts):
Full link to join the event on Zoom: https://us02web.zoom.us/j/85890661342
Full link to Facebook-Event, go to one of the Member's pages for the livestream on the day https://www.facebook.com/Viola4Europe/videos/239190094340239 or https://fb.me/e/29ACuTfFl
German version and full agenda below
Anna Deparnay-Grunenberg, Henrike Hahn and Viola von Cramon-Taubadel
cordially invite you to the online congress
"The Transition of the Automotive Industry: Being the Change"
28 January 2021
12:30-14:30 & 15:00-17:00
The shift to alternative drive systems, changes in the global market, shortage of skilled workers, Corona pandemic: the European automotive industry is undergoing structural change. Together with experts from industry, research and civil society, we will discuss the challenges currently facing the European automotive industry and the industrial policy approaches we need so that it remains an engine for employment and prosperity in Europe in the future.
12:30-14:30 The perspective of the German automotive industry and its transition (German)
• Thorsten Gröger, Bezirksleiter der IG Metall Niedersachsen und Sachsen-Anhalt
• Christian Hochfeld, Direktor der Agora Verkehrswende
• Doris Holler-Bruckner, Präsidentin des Bundesverbands Nachhaltige Mobilität Österreich
• Hildegard Müller, Präsidentin des Verbands der Automobilindustrie VDA
• Wilko Stark, External Automotive Advisor für Bain & Company
• Kathrin Watson, Head of EU Affairs Office der Robert Bosch GmbH
15:00-17:00 The European perspective on the industry change (English, French & German)
• Joseph Beretta, Honorary President of AVERE France
• Marc Chevreau, CIO at XYT
• Maria Grazia Davino, Managing Director German Market at FCA Fiat Chrysler Automobiles
• Dr. Mario Herger, Technology Trend Researcher and Author
• Joanna Szychowska, DG GROW, Head of Unit "Automotive and Mobility Industries"
• Philippe Vangeel, Secretary-General of AVERE
Anna Deparnay-Grunenberg, Henrike Hahn und Viola von Cramon-Taubadel laden herzlich ein zum Online-Kongress
"Die Automobilindustrie im Wandel: Den Umbau gestalten"
Der Umstieg auf alternative Antriebe, Veränderungen auf dem globalen Markt, Fachkräftemangel, Corona-Pandemie: Die europäische Automobilindustrie befindet sich in einem strukturellen Umbruch. Gemeinsam mit Expert*innen aus Industrie, Forschung und Zivilgesellschaft erörtern wir, vor welchen Herausforderungen die europäische Automobilindustrie aktuell steht und welche industriepolitischen Ansätze wir brauchen, sodass sie auch in Zukunft ein Motor für Beschäftigung und Wohlstand in Europa bleibt.
12:30-14:30 Die Automobilindustrie in Deutschland im Wandel (Deutsch)
• Thorsten Gröger, Bezirksleiter der IG Metall Niedersachsen und Sachsen-Anhalt
• Christian Hochfeld, Direktor der Agora Verkehrswende
• Doris Holler-Bruckner, Präsidentin des Bundesverbands Nachhaltige Mobilität Österreich
• Hildegard Müller, Präsidentin des Verbands der Automobilindustrie VDA
• Wilko Stark, External Automotive Advisor für Bain & Company
• Kathrin Watson, Head of EU Affairs Office der Robert Bosch GmbH
15:00-17:00 The European perspective on the industry change (Englisch, Französisch, Deutsch)
• Joseph Beretta, Honorary President of AVERE France
• Marc Chevreau, CIO at XYT
• Maria Grazia Davino, Managing Director German Market at FCA Fiat Chrysler Automobiles
• Dr. Mario Herger, Technology Trend Researcher and Author
• Joanna Szychowska, DG GROW, Head of Unit "Automotive and Mobility Industries"
• Philippe Vangeel, Secretary-General of AVERE