Automatisierte CI/CD-Pipelines mit Azure DevOps / TFS (YAML Edition)
Description
Hinweis: das Training findet auf Deutsch statt; die Kursunterlagen sind zum Großteil auf Englisch verfasst.
Lust auf Build/Release-Automatisierung mit Azure DevOps/TFS?
Just recently Microsoft re-launched its DevOps platform under a new name: Azure DevOps (formerly known as Team Foundation Server and VS Team Services). Join the two DevOps experts Neno Loje (Germany) and Marc Müller (Switzerland) for three content-packed and exciting training days around DevOps best practices using Microsoft technologies and services.

Focus on Continuous Integration / Deployment (CI/CD)
This training will focus mainly on the CI/CD automation aspects of DevOps (also known as "Azure Pipelines") - the heart of every DevOps journey and the foundation for the First Way of DevOps. You will learn how to get the most out of your Azure DevOps/DevOps Server (TFS) and customize it to your environment.

Course overview

Date: February 4 - Februar 6, 2020 (3 days)

Location: Microsoft Germany, Frankfurt office, Bad Homburg (about 20 kilometers from Frankfurt)

Course language: German (courseware mostly in English)


Course type: Interactive - a mixture of lecture, demos, and exercises

Focus area: Azure Pipelines (build + release part of Azure DevOps)

Trainers: Neno Loje (Germany) and Marc Müller (Switzerland)
Reasons to attend
Azure DevOps is moving fast, get updated on the latest features

Best practices for DevOps using Microsoft tools and services

A mixture of lectures, demonstrations, and group exercises to maximize your learning - expect this to be an interactive experience.


Plan ahead: get an outlook and learn about future directions
And last but not least: this is not a boring one-way lecture, so please bring your questions!
Learning Goals - in this class you will have

Configured custom Agent pools and Pipeline agents,

Created a fully-featured pipeline - consisting of a build and a multi-stage release part,

Have used the new YAML syntax to define pipelines (available in DevOps Server 2019 and later),

Set up branch policies to enable an efficient developer workflow using Git pull requests, incl. build validation,

Integrated unit tests and quality analyzers into the build part of the pipeline,

Implemented versioning patterns for your artifacts produced by your build,

Deployed and ASP.NET Core-based app to Microsoft Azure and Microsoft IIS,

Have discussed the core concepts in depth (pipelines, stages, different kind of jobs, artifacts, task groups, etc.),

Learned some advanced concepts (logging commands, path filters, approvals, gates),

Discussed best practices and tips for naming, dependency management, pipeline structure, and more.
Topics covered

Get a clear overview of Azure DevOps how all parts fit together for your mental map

How to enable an efficient developer workflow using Git, feature branches, branch policies, and pull requests


How to set up custom agents for Azure Pipelines to run builds, releases or automated test runs

When to use agent pools and when to use deployment groups/pools

How to build .NET, (ASP).NET Core, and Angular apps and how to deploy them to Azure App Services

How to version your assemblies, services, and containers

How to use a single pipeline for multiple purposes and multiple branches (requires Git)

Replacing configuration values during deployments for different staging and production environments

Working with formal approvals (manual) and release gates (automated)

How to integrate Pipelines with Azure Boards and Work Items

How to get structured test reporting using Azure Test Plans
Topics *not* covered in this class

How to install/update Azure DevOps Server (TFS)

Customizing work items types (process) in Azure Boards

Programming against the REST APIs of Azure DevOps

Creating custom pipeline tasks using the SDK
Your Hosts
Neno Loje (Germany) and Marc Müller (Switzerland). Both are proven Azure DevOps experts and received the Microsoft Most Valuable Professional (MVP) award in the Developer Technologies category.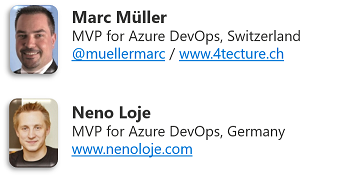 FAQs
We are not using Azure DevOps yet, what previous experience is required?

While it certainly helps - you do not need to have any experience with Azure DevOps (Services or Server).

We are using Team Foundation Server (TFS). Is this training a good fit?

Yes - while we will use the cloud version - Azure DevOps services - in class, all learnings will equally apply to Azure DevOps Server (TFS).
My company is not using any cloud services right now. Should I still attend?

Yes - the training will cover both - deploying to cloud services (Microsoft Azure) as well as on-prem scenarios (like IIS deployment).

What's the refund policy?
Cancellations up to 30 days before the training will be fully refunded.
Is my registration fee or ticket transferrable?
Yes, you can name a substitute person by contacting us before the event.

Any questions left?
Let us know by using the contact form at: http://www.tfscamp.com/contact/