About this Event
PROBLEM:
Gateways are commonly used to distributed controls and data across different parts of the SCADA system. These devices often are used to concentrate thousands of points from hundreds of devices and convert messages across multiple protocols. Most protocol mapping tests for gateways are performed manually. Each point is tested, one by one, to ensure data is mapped correctly from each device across the system. This manual process is:
Time Consuming
Error Prone
Repetitive
SOLUTION:
Automatically test protocol and data type mapping in a gateway and document results with the Distributed Test Manager (DTM). This is accomplished by simulating changes in the downstream IEDs and verifying they are received upstream in the SCADA Master. The following benefits will be achieved:
Saves Time
Saves Money
More Reliable
Perform testing earlier by not waiting for the final system to be installed and configured
Learning Objectives:
Learn how to simulate IEC 61850 & DNP3 network traffic to test point mapping within your data concentrator.
Walk thru an example of testing our SCADA Data Gateway using Distributed Test Manager (DTM) simulating multiple downstream IEC 61850 IEDs and an upstream DNP3 SCADA Master.
Learn how a script running in DTM automates the testing of protocol mapping in the Gateway, Data Concentrator or RTAC and documents the results.
Test partial systems by simulating missing physical devices and without purchasing expensive test equipment to generate signal changes.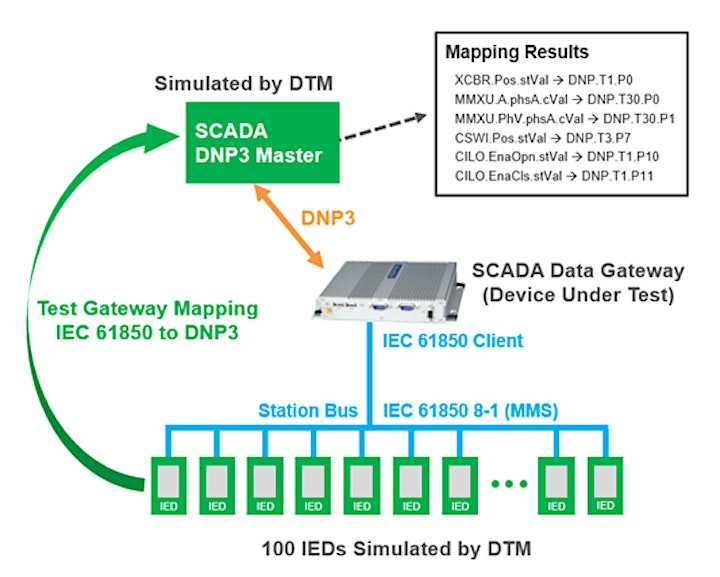 Specific knowledge, skills and/or capabilities that attendees should acquire by taking this course:
None
Who should attend this course:
Software engineers
Software engineering managers
Substation Field Technicians
Anyone who wants to save time & money when deploying substations
HOSTED BY: