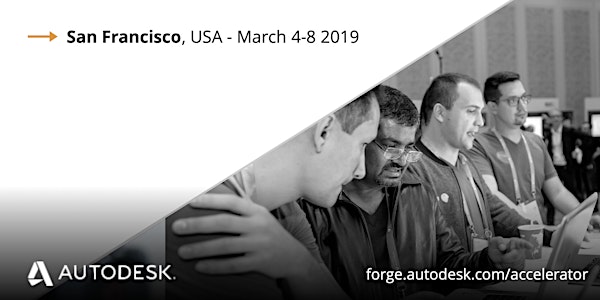 Autodesk Forge Accelerator - San Francisco (March 4th-8th, 2019)
When and where
Location
Autodesk Inc. Suite 200 1 Market Street San Francisco, CA 94105
Description
Develop for the Cloud with Autodesk Forge
Autodesk Forge Accelerator is an opportunity to work intensively on a chosen project with help, support and training from Autodesk Cloud Engineering teams.
The Autodesk Forge Accelerator is designed to help creative developers leverage Autodesk Forge Cloud APIs - https://developer.autodesk.com


How to Apply
Simply click 'Register' button above, fill in the fields and we will contact you if you are accepted.
You will need to fill in the following information:
1. Company (Name & Address)
2. Attendees – the names and email addresses of the one or two people who will attend the accelerator
3. Autodesk APIs to be used – such as...
Viewer API,
Design Automation API (for Revit, Inventor, AutoCAD, 3ds Max),
BIM 360 API,
Data Management API,
Model Derivative API,
Reality Capture API (beta).


4. Your proposal – explain in 2000 words or less, why you should be a participant.
You can also include a link to an image (jpg, png, pdf) to support your proposal.
In your proposal, make sure you include the following information:
Mention how you intend to use the Autodesk Forge APIs to fulfill a compelling customer need

Describe what you are going to code and prototype during the Accelerator.

Will you present a 'demo' on the presentation day (last day) ?

Strong development skills

High motivation
For more details about this and other Forge Accelerator events: http://autodeskcloudaccelerator.com/forge-accelerator/
FAQs
What can I bring into the event?
You'll need to bring your own laptop. We provide wifi, power and, presentation equipment if you want to present your work on the 'demo' day (last day).
Is it ok if the name on my ticket or registration doesn't match the person who attends?
Yes. You can update the attendees at any time.