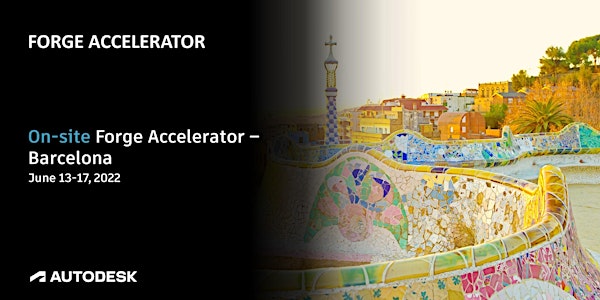 Autodesk Forge Accelerator ON-SITE: Barcelona (June 13-17th, 2022)
Benefit from dedicated time to develop your Forge application ON-SITE – with direct help and training from Forge engineering experts.
When and where
Location
Autodesk SA Carrer de Josep Pla, 2 Torre B2, Planta 6 08019 Barcelona Spain
About this event
NOTE: If you don't think you can make it to the on-site accelerator, that's ok! We are continuing to run our Virtual Forge Accelerators. Check out this registration page if you want to join the upcoming accelerator virtually (Zoom & Slack): HERE.
Develop for the Cloud with Autodesk Forge
Autodesk Forge Accelerator is an opportunity to work intensively on a chosen project with help, support and training from Forge engineering experts.
The Autodesk Forge Accelerator is designed to help creative developers leverage Autodesk Forge Cloud APIs - https://forge.autodesk.com.
Please note that space is limited (maximum 2 people per team). If you would like to have more than 2 people from your team attending, please ask them to sign up for the virtual component of the upcoming accelerator in Barcelona: HERE.
Deadline for submitting your proposal is Friday May 27th, 2022. 
How to Apply
Simply click 'Register' button above, fill in the fields and submit your application.
Please note: your application is not automatically accepted. We will review it and contact you to confirm if you are accepted.
You will need to fill in the following information:
1. Company (Name & Address)
2. Attendees – the names and email addresses of the one or two people who will attend the accelerator
3. Autodesk APIs to be used – such as...
Viewer API
Design Automation API (for Revit, Inventor, AutoCAD, 3ds Max)
BIM 360 API
Autodesk Construction Cloud (ACC) API
Data Exchange API
Data Visualization API
Data Management API
Model Derivative API
Reality Capture API
Webhooks API
Premium Reporting API
Token Flex API
Authentication (OAuth) API
4. Your proposal – explain in 2000 words or less, why you should be a participant. Be descriptive. Tell us what you are working on and what you hope to achieve by the end of the event.
You can also include a link to an image (jpg, png, pdf) to support your proposal.
In your proposal, make sure you include the following information:
Mention how you intend to use the Autodesk Forge APIs to fulfill a compelling user need
Describe what you are going to code and prototype during the Accelerator.
Will you present a 'demo' on the presentation day (last day)?
Strong development skills
High motivation
For more details about this and other Forge Accelerator events: https://forge.autodesk.com/accelerator-program.
Forge Data Days
We invite you to join a series of events worldwide called Forge Data Days to learn how to fully unlock the value of your data with Forge, which will power your move from individuals and teams with tools to enterprise digital transformation.
Register now at one of the 19 locations worldwide: https://forge.autodesk.com/forge-data-days.