Event Information
Location
Autodesk Gallery at One Market
One Market, Floor 2
San Francisco, CA 94105
Description
Autodesk Celebrates Makers:
Come meet with a group of diverse maker-entrepreneurs who utilize Autodesk® Fusion 360™ 3D design software or 3D printing to prototype or produce their innovative creations.
When:
Monday, May 9, 2016 5:30 PM to 8:00 PM
This is open house format so stop by when you can.
Cost:
It's free for those who register!
Who should attend?
Students considering developing their own product or starting a company

Entrepreneurs wanting to meet other founders who are using state-of-the-art design and making tools

Anyone curious about 3D design and distributed manufacturing
Autodesk supports SFMade Week (http://www.sfmade.org/) and the organization's mission to empower makers to utilize the local resources that enable them to design and produce in San Francisco, creating new businesses and jobs for makers, doers, and thinkers.
Fusion 360 software is free* for students, educators, hobbyists and entrepreneurs earning less than $100,000. For more information visit the Fusion 360 website.

Speakers:
Star Simpson
Star is an Electrical Engineer from MIT and found her love for electronics when she was 14. She has been a maker/tinkerer/builder and has been happy to take things apart ever since. Star's latest venture is Circuit Classics which brings Forrest M. Mim's original hand-drawn circuits projects, by creating an exquisitely designed series of finely crafted, and highly detailed boards. Circuit Classics is on Crowd Supply now!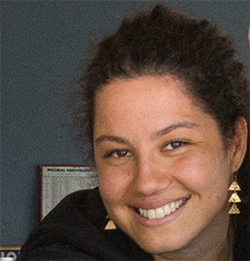 Lisa Winter
Lisa has been building and battling Robots since she was a little girl, and is a 20 year veteran on Battlebots! That's right, she has been competing since she was 10! (Watch her compete on the Tonight Show with Jay Leno). Lisa competed in the last Season of Battlebots that aired on ABC and may or may not (shhhhh!) be competing in the season to air this summer.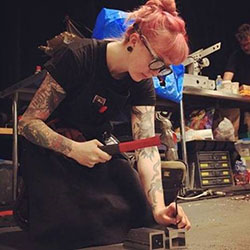 Additional exhibitors include:
Hong Quan, designer of the Karmic Koben electric bike. http://www.karmicbikes.com/
Suz Somersall, jewelry designer who started a platform to teach 3D design to young women.http://www.kirakira.com/
Founding partners of OhmniLabs, builders of affordable high-performance personal robots. https://ohmnilabs.com/
And more…

*Free Autodesk software and/or cloud-based services are subject to acceptance of and compliance with the terms and conditions of the software license agreement or terms of service that accompany such software or cloud-based services. Software and cloud-based services subject to an Educational license may be used solely for Educational Purposes and shall not be used for commercial, professional or any other for-profit purposes.Autodesk, the Autodesk logo, and Fusion 360 are registered trademarks or trademarks of Autodesk, Inc., and/or its subsidiaries and/or affiliates in the USA and/or other countries. All other brand names, product names, or trademarks belong to their respective holders. Autodesk reserves the right to alter product and services offerings, and specifications and pricing at any time without notice, and is not responsible for typographical or graphical errors that may appear in this document. © 2016 Autodesk, Inc. All rights reserved.

Date and time
Location
Autodesk Gallery at One Market
One Market, Floor 2
San Francisco, CA 94105