Actions and Detail Panel
Autism Welcomed Time-Out "Ride & Smile with ME @ T.E.C !"
Sat, December 10, 2016, 10:00 AM – 12:00 PM EST
Event Information
Location
(T.E.C) Tomorrow's Equestrian Center
16510 W Hwy 326
(GPS) is Incorrect. Get Directions from TEC or SMAARTMom
Morriston, FL 32668
Description
AUTISM WELCOMED " Helping Families Living With Autism Feel Welcomed In Public Places"
Autism and other disabilities can make it so difficult to venture out into public places. But now I'm hoping to change all of that with the help of the AUTISM WELCOMED DECAL SMILEI created for families just like ours :)
Join Dustin & S.M.A.A.R.T.Mom for an Opportunity to Actually Ride a Horse! I know first hand how skeptical some of you may be about this, especially if you have been dealing with a fear of animals, like My Dustin. I personally NEVER saw my own son doing this because of his fear. But I had to TRY. I hope you will do the same. I got visionally excited for Dustin & kept saying, How cool it was going to be to ride like a real Cowboy!. I still had my resevatons, but I've also learned never to underestimated Autism. But don't take my word for it.....i do have a Mini-Moment Video so you can Watch My Dustin's "Test-Ride" at TEC for the very first time. Just Click on his Picure :)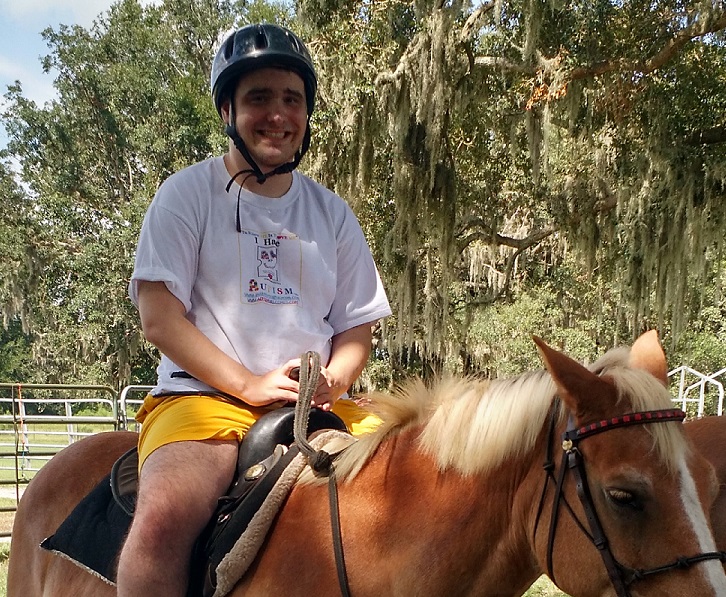 I know you can do this. Also be sure to enter this month's raffle to try and win An Autism Welcomed Pin , Handmade Horse Puzzle & a Book titled: Apples for Cheyanne ( A Story about autism, horses, & Friendship) I will also have my Scratch Offs , Rewards, & a Little something , something for my Moms, Dads, Care Persons, etc.And Best of all you'll have a chance to meet other families walking in your shoes :)
Dare to Join us for: Autism Welcomed Time-Out "Ride & Smile with ME @ T.E.C !" in (MORRISTON, FLA.)
Date and Time : December 10, 2016. SATURDAY (10:00am-12:00pm) ( ONLY Purchase Your Ticket " After" your Test-Ride)
COST: FREE with Stipulations. NOTE: Only 9 riders available to ride. DO NOT Purchase your ticket Until you have had a Test Ride Please. The following IS REQUIRED to attend this Time-out: Sign Waiver & send ASAP, Attend a "test" ride prior to Time-Out if possible, Wear Boots with a heel, and NO Siblings unless there to help ONLY. Bring a Picnic Basket for Lunch ! If you miss out on this. Don't worry, I will be doing this again so you can have this experience.
Very Important: After you have contacted (TEC) for your Test-Ride at (352) 528-3445 you will need to contact me at: smaartmom@gmail.com to get the correct directions & request & fill out the Required Forms you will need to Send to T.E.C. BEFORE your Test ride. Lastly, Once you have sent in your forms, had your Test-Ride, and decided that you would like to Ride @ December's Time-Out....You will need to go to :
www.autismwelcomed.com and click on the tab: 2016' Autism Welcomed Decal "Time-Outs"
Fill in the Blank Boxes & Get your Ticket. Reminder, this is only for a Loved ones with a disability.
You'll find the Autism Welcomed Decal "symbol" there to greet you as well :) (IMPORTANT NOTE FAMILIES!!! Please bring comfort Toys,DVD's,CD players, etc)
WHY Should You Come? Because....AUTISM IS WELCOMED HERE! The Autism Welcomed Decal will be there to Greet You at the Entrance:) You Won't be Alone :)
(Please Note: Sorry, but Tickets can ONLY be purchased HERE online.Question? Reach out to S.M.A.A.R.T.Mom. (Print your Ticket and Bring it with you the day of event. Thank You)
BIG HUGS! Angela (aka) S.M.A.A.R.T.Mom www.autismwelcomed.com www.awaythroughautism.com
(ATTENTION: Autism Families, please know that some of these places may be Loud, Bright, or Even Crowded. The idea is to Feel Welcomed , but at the same time help our special guys/girls learn to cope and withstand those things while in many public places. So with the help of these WONDERFUL People and Places they have shared their Smiles with the Autism Welcomed Smile. This heart-felt "Symbol" expressing one thing....
" Autism Families, We know it took Courage to come out today,We Understand, & We've Got Your Back!"
Date and Time
Location
(T.E.C) Tomorrow's Equestrian Center
16510 W Hwy 326
(GPS) is Incorrect. Get Directions from TEC or SMAARTMom
Morriston, FL 32668