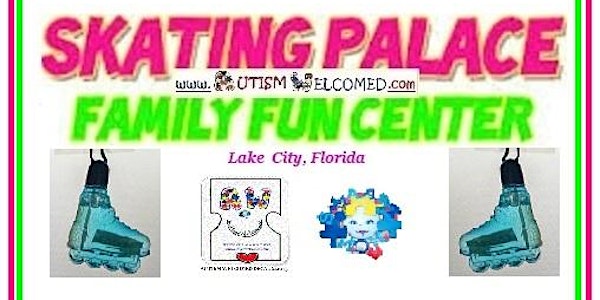 Autism Welcomed Decal Time-Out&Test-Drive"Skate & Smile" Time-Out in Lake City, FL!
When and where
Location
Skating Palace Family Fun Center 357 Northwest Hall of Fame Drive Lake City, FL 32055
Description
AUTISM WELCOMED DECAL" Helping Families Living With Autism Feel Welcomed In Public Places"
Autism and other disabilities can make it so difficult to venture out into public places. But now I'm hoping to change all of that with the help of the AUTISM WELCOMED DECAL SMILEI created for families just like ours :) So come join Dustin and I plus other families walking in our shoes. Join Dustin & S.M.A.A.R.T.Mom for a Roller Skating Great Time AND Come out to enter this Month's Raffle to try and WIN (no cost to enter raffle).
Dare to Join us for: Autism Welcomed Decal "Skate & Smile" Time-Out in Lake City, FL!
Located in Lake City, Florida (March 25, 2018. @ 6:00pm-8:00pm (SUNDAY) No Cost of course if you are NOT Skating. Once you enter be sure to place your name in the AWD Raffle Box :)
We'd LOVE your company !
(IMPORTANT NOTE FAMILIES!!! Please feel free to bring comfort Toys,DVD's,CD players, etc)
WHY Should You Come? Because....AUTISM IS WELCOMED HERE! The Autism Welcomed Decal will be there to Greet You at the Entrance Today, Tomorrow, and Every Day you come through their Doors :)
So, You will Never Feel or Be Alone :)
(Please Note: Sorry, but Tickets can ONLY be purchased HERE online.Question? Reach out to S.M.A.A.R.T.Mom. (Print your Ticket and Bring it with you the day of event.Your Print Out is also your raffle Entry Thank You)
Hug You Soon! Angela (aka) S.M.A.A.R.T.Mom www.autismwelcomed.com
(ATTENTION: Autism Families, please know that some of these places may be Loud, Bright, or Even Crowded. The idea is to Feel Welcomed , but at the same time help our special guys/girls learn to cope and withstand those things while in many public places. So with the help of these WONDERFUL People and Places they have shared their Smiles with the Autism Welcomed Smile. This heart-felt "Symbol" expressing one thing....
" Autism Families, We know it took Courage to come out today,We Understand, & We've Got Your Back!"