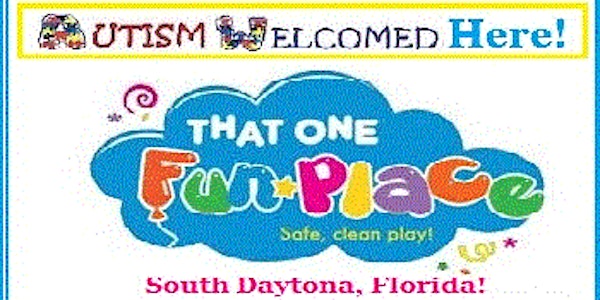 Autism Welcomed Decal "Jumping for Autism Acceptance " @ That One Fun Place!
When and where
Location
That One Fun Place 2400 South Ridgewood Avenue ##50 South Daytona, FL 32119
Description
AUTISM WELCOMED DECAL" Helping Families Living With Autism Feel Welcomed In Public Places"
Autism and other disabilities can make it so difficult to venture out into public places. But now I'm hoping to change all of that with the help of the AUTISM WELCOMED DECAL SMILEI created for families just like ours :) So come join Dustin and I plus other families walking in our shoes. Join Dustin & S.M.A.A.R.T.Mom for a Jumping Great Time AND Come out to enter this Month's Raffle to try and WIN (no cost to enter raffle).
WATCH the "LIVE" Video of the Day "That One Fun Place" gave the Autism Welcomed Decal Symbol a "Permanent Home" HERE located in South Daytona, Florida!
VIDEO: https://www.youtube.com/watch?v=ewZhQpbL6Bc&t=265s
Dare to Join us for: Autism Welcomed Decal's "Jumping for Autism Acceptance" @ That One Fun Place!
Located in South Daytona, Florida ( April 22, 2018. @ 10:00am-12:00pm (SUNDAY)
COST: Parents/CarePersons $2.50 ( 1 Pizza Slice & Water/Soda) , Siblings/Friends Jumping: $6. (1 Pizza Slice & Water/Juice), Person with Autism/Special Need: $5. (1 Pizza Slice & Water/Juice) . You don't have to purchase socks (socks from home are just fine); NOTE: You MUST have Socks on if you're going to play. This is a discounted price only for us TODAY and you will have to fill out a waiver. To prevent a long wait for us, PLEASE be sure to fill out the waiver onlione at this link:
https://thatonefunplace.a.pcsparty.com/shared/widgets/login.asp?action=logout&source=waivers
(The Waiver is kept on file & good for One Year)
We'd LOVE your company !
Ohhh, And Did I mention that this place will be closed for the two hours we are here ? Yep, You read that correctly :) A Wonderful chance to meet other speical families just like yours and mine. You WON'T Be Alone !
(IMPORTANT NOTE FAMILIES!!! Please feel free to bring comfort Toys,DVD's,CD players, etc)
WHY Should You Come? Because....AUTISM IS WELCOMED HERE! The Autism Welcomed Decal will be there to Greet You at the Entrance Today, Tomorrow, and Every Day you come through their Doors :)
So, You will Never Feel or Be Alone :)
(Please Note: Sorry, but Tickets can ONLY be purchased HERE online.Question? Reach out to S.M.A.A.R.T.Mom. (Print your Ticket and Bring it with you the day of event.Your Print Out is also your raffle Entry Thank You)
Hug You Soon! Angela (aka) S.M.A.A.R.T.Mom www.autismwelcomed.com
(ATTENTION: Autism Families, please know that some of these places may be Loud, Bright, or Even Crowded. The idea is to Feel Welcomed , but at the same time help our special guys/girls learn to cope and withstand those things while in many public places. So with the help of these WONDERFUL People and Places they have shared their Smiles with the Autism Welcomed Smile. This heart-felt "Symbol" expressing one thing....
" Autism Families, We know it took Courage to come out today,We Understand, & We've Got Your Back!"