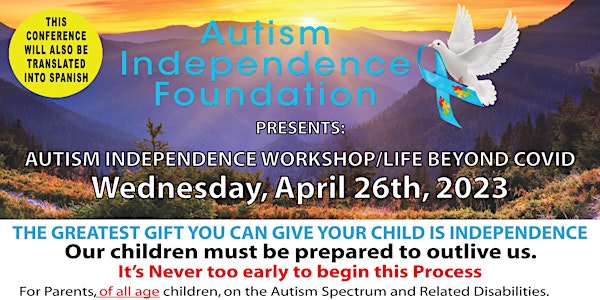 AUTISM INDEPENDENCE CONFERENCE 4-26-23
Life Beyond COVID: Learn how you can help your child live the best life To Parents of All Age Children with Developmental Disabilities
When and where
Location
The California Endowment 1000 North Alameda Street (Free onsite parking) Los Angeles, CA 90012
About this event
4 hours 15 minutes

Mobile eTicket
Our children must be prepared to outlive us
Life Beyond COVID: Learn how you can help your child on the autism spectrum live the best life possible in today's complex world, while discovering how to put your son or daughter's unfamiliar life back together.
If you're fearful about your child's future, you must attend "Life Beyond Covid".
Be heard, ask questions, or simply listen as we tackle this urgent matter.
Do All You Can While You Can. Don't Wait Till It's Too Late.
Amalia Starr, Trainer Our trainer, Amalia Starr will lead the way, she knows how you feel. She is a mother of an independent autistic adult son. She has been a pioneer and trailblazer on the autism and special needs advocacy path for more than 40 years. Her trainings are informative, uplifting and filled with HOPE. Trainer/Facilitator: Amalia Starr, International Motivational Speaker, Authored Two Books on Autism, Founder of Autism Independence Foundation, and an Independence Coach, Nothing is more encouraging than listening to an experienced parent like Amalia Starr who is ahead of you on the path, offering practical advice and emotional relief. Starr's breakthrough trainings-workshops are relevant, heartfelt, and informative. Her enthusiastic, upbeat personality is contagious. "I love what I do," says Starr, and it is obvious.
Regional Center's will often cover the cost of our Trainings. If you are a client at a Regional Center and want to attend this training contact your service coordinator at your regional center for the request for service. If you have any questions about this process please call 800-939-1046 or email amaliastarr@gmail.com 
Our Vendor Numbers SGPRC PP5907, Lanterman PD3793, Westside PW7942, Amalia Starr-Trainer.
Due to COVID there's limited seating & Proof of vaccination or mask is required.
Join us as Amalia Starr, our speaker and facilitator fills the room with HOPE and firsthand experiences as she helps you settle in and feel comfortable.  She created this day for you, to be seen, heard, appreciated, and supported.  You will feel inspired and motivated as you learn how to help your son or daughter reach their full potential.  Although this is a serious subject Starr makes this training fun and uplifting.  She knows what you are going through because she has been where you are.  She is a parent who helped her autistic son, Brandon live his dream of independence for 17 years, even when the professionals deemed it impossible. She has been recognized as a pioneer and trailblazer blazing the trail for more than 40 years. Some of her stories will make you laugh and are easily relatable but it is her authenticity and honesty that will win your heart.  She is a bright light always sharing HOPE while addressing the future with positive regard.   Your child will spend 75% of his or her life as an adult.  We as parents and guardians must do everything we can to help our children reach their full potential. Helping my son, Brandon live his dream of independence is one of the best things I have ever done.  It is what motivates me to teach independence training to other parents so they too can obtain the same results for their child.  It is never too early to talk about Independence.  It is a lifelong process.
Presents
LIFE BEYOND COVID AUTISM INDEPENDENCE WORKSHOP with AMALIA STARR
This training will also be translated into Spanish
Friday, Sept 30th, 2022
The California Endowment 
1000 North Alameda Street Los Angeles, CA 90012
9:00AM - Join us  for your morning coffee or tea 
9:30AM - AUTISM INDEPENDENCE CONFERENCE Event begins!
Parking - FREE onsite parking.