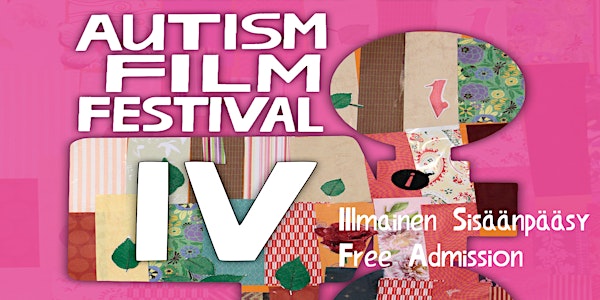 Location
SES Auditorio Kino K-13
12 Kanavakatu
00160 Helsinki
Finland
Autism Film Festival esittää elokuvia autismista. Ilmainen sisäänpääsy Autism Film Festival showcases films about autism. Free admission
About this event
Autismisäätiö järjestää jo neljättä kertaa Autism Film Festivalin, jonne on taas ilmainen sisäänpääsy!
Mukana on monipuolinen kattaus autismia käsitteleviä elokuvia ympäri maailman. Festivaalin tarkoitus on lisätä tietoisuutta autismista tuomalla elokuvan keinoin esille autismikirjon monimuotoisuutta. Autism Film Festival on ainoa autismikirjon henkilöiden tuottama elokuvafestivaali maailmassa.
Autism Film Festival IV on kutsunut kunniavieraiksi Italiasta In Alto Mare -elokuvan tuottaneen ja siinä esiintyneitä Diversamente Onlus -yhdistyksen aktiiveja, lisäksi festivaalin kunniavieraaksi saapuu Jamey Wolff, joka on tuottanut ja ohjannut Aspergers Difference -elokuvan.ja kunniavieraaksi saapuvat myös Pohjois-Afrikan ensimmäisen autismielokuvan, Ali Ya Ali:n, ohjaaja Abdelhai Laraki ja tuottaja Caroline Locardi.
Kaikilla kunniavierailla on omat kunniavierasnäytökset, joiden alussa he esittelevät elokuvansa ja näytösten jälkeen on Q&A tuokio.
Ikäraja K-12.
Autism Foundation of Finland is producing for the fourth time the annual Autism Film Festival and again this the admission is free!
This year the festival showcases a wide variety of films about Autism and people living with Autism from around the world from Italy to USA. The festivals main goal is to improve the awereness of Autism and the spectrum of people affected by it.
This years festival has three guests of honour, the producers and subjects of the film In Alto Mare, On The High Seas from association Diversamente Onlus from Cagliari, Italy, Jamey Wolff from Center for Spectrum Services from New York, USA, who has directed and produced the documentary Aspergers Difference. and also the festival is proud to have as guest of honour the director Abdelhai Laraki and producer Caroline Locardi of the first Autism film in Northern Africa.
All the festivals guests of honour give an introduction to their films screening and an Q&A session after the screening.
All that the festival's screening have a rating of K-12.
www.autismfilmfestival.fi
All rights reserved
Oikeus muutoksiin pidätetään.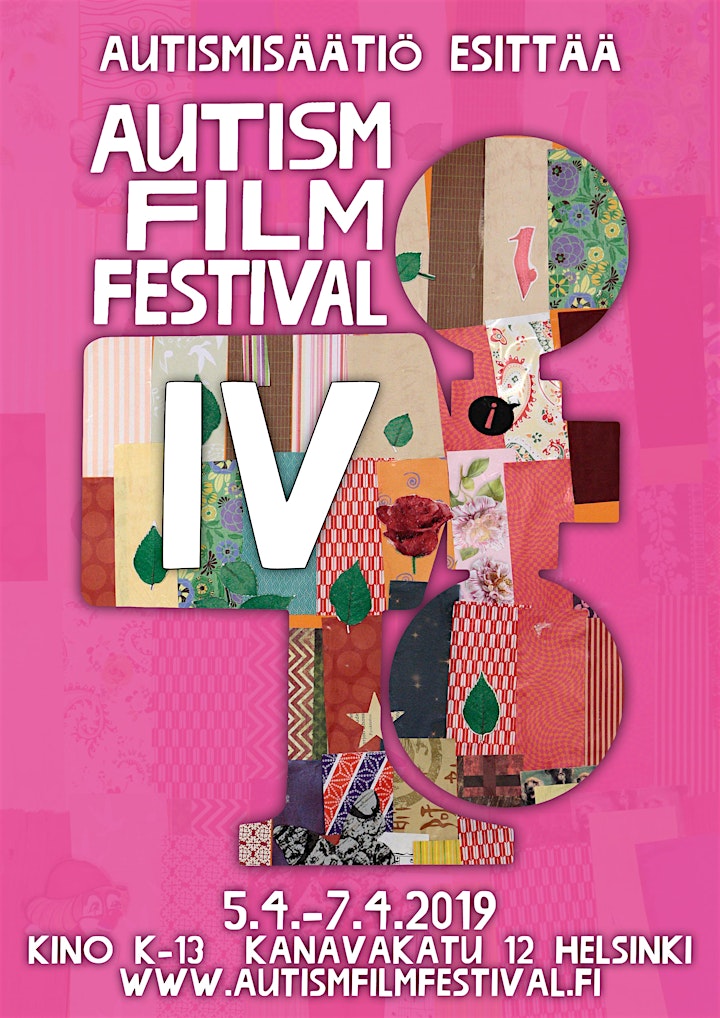 Ohjelma/Program
5.4. Perjantai/Friday
18.00-20.00 In Alto Mare, Guest of Honour: Diversamente Onlus
19.30-20.00 Q&A
20.00-21.30 For Izzy
6.4. Lauantai/Saturday
12.30-13.30 Children of the Full Moon
13.30-15.00 Free
15.00-16.00 Autism in Popular Culture panel discussion
15.00-16.45 Ali Ya Ali, Guest of Honour: Abdulhai Laraki & Caroline Locardi
16.45-17.15 Q&A
17.15-18.30 Lyhytelokuvasarja/Short film selection,
Chimes for Autism, surReality, Autism – A Somali-American Story, Jeffrey, 100% Myself & myöhemmin julkaistava elokuva/film to be annouced
18.30-20.00 This Business of Autism
7.4. Sunnuntai/Sunday
12.40-14.00 A Still Jacket
14.00-14.45 The Aspergers Difference, Guest of Honour: Jamey Wolff
14.45-15.15 Q&A
15.15-16.45 The Big Blue Sea
16.45-19.15 Anton's Right Here
19.15-21.15 A Boy Called Po
Festivaalin näytöksillä on ikäraja K-12./All the festival's screening have a rating of K-12.
Kaikki elokuvat ovat englanninkielisiä tai niissä on englanninkieliset tekstitykset, paitsi In Alto Mare, jossa on suomenkieliset tekstitykset/All films are in English or have English subtitles, except In Alto Mare which is subtiled in Finnish.