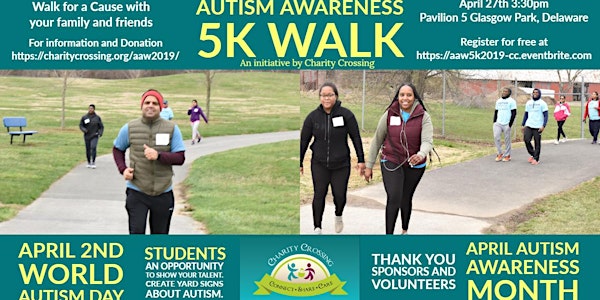 Autism Awareness 5K Walk ~ 2019 ~ Glasgow Park, DE
When and where
Location
Pavilion 5, Glasgow Park, Delaware 2275 Pulaski Hwy Newark, DE 19702
Description
For the second year in a row, Charity Crossing is organizing Autism Awareness 5K Walk. Pleaes join us at the Pavilion 5 in Glasgow Park to show your support for the people and families in Autism spectrum. With every step we take and every dollar we raise, we help enhance lives today and accelerate a spectrum of solutions for tomorrow. Spring is a perfect time to walk with your friends and family.
The park has lots of activities to keep all your family members busy. Please check out the park guide for more information. https://nccde.org/DocumentCenter/View/1251/Glasgow-Trail-Guide-PDF?bidId=
We go blue to support Autism Awareness. Wearing blue dress suggested for the walk. Alternateively, you can donate $5 or more to get a free T-Shirt. More details to follow in March.
Earn community service hours by
a) Participating in the walk
b) Create an Awareness Poster
c) Create a You Tube Informational Video
d) Write a Blog
FAQs
Are there ID or minimum age requirements to enter the event?
No. Anyone can walk. Children must accompany with adults.
What are my transportation/parking options for getting to and from the event?
Park your vehicle near Pavilion 5 (aka Farmers Market), Tennis court, or the Bark Park.
What can I bring into the event?
Water, fruit, and snacks to keep you energized.
How can I contact the organizer with any questions?
By e-mail at info@CharityCrossing.Org. Please provide your contact information including phone and e-mail id.
Registration and Release Form
In consideration for the opportunity to participate in the "Autism Awareness Walk" I agree as follows for myself, and for my family members who participate and/or attend with me: I hereby waive and release, for myself, my child, my heirs, executors and administrators, any and all rights, claims, liabilities and causes of action whatsoever I or my family members may have against Charity Crossing Inc., its affiliates and the "Autism Awareness Walk" operators and sponsors and each of their respective officers, directors, employees and agents (the "Event Parties") relating to or arising from my or my family's participation in the Event, including but not limited to personal injury. I recognize the 'Autism Awareness Walk" has inherent risk of injury and I hereby assume that risk, and on behalf of me and my family. If I or my family causes injury to any person or damage to any property while participating in the Event, I hereby indemnify and hold harmless the Event Parties from and against all claims, suits, actions, loses, damages and expenses related to arising from such injury or damage. I hereby give my consent to Charity Crossing Inc., to use my and my families name and photographs, video and film ("Photos") of me and/or my child taken before, during or after the "Autism Awareness Walk" in advertising and promotional materials for Charity Crossing including but not limited to the Internet, without compensation. I agree that no advertising or other material need be submitted to me or my family for approval. I agree that all Photos of me and /or my family used by Charity Crossing Inc. and they may copyright material containing same. I hereby release, discharge, and agree to save harmless the Event Parties from any liability, including, without limitation, any claims for libel or invasion of publicity/privacy, by virtue of any use of my or my families name and/or Photos, including, any alteration of such Photos, whether intentional or otherwise. I have read and understand this Release and Consent and declare all information is truthful and accurate.