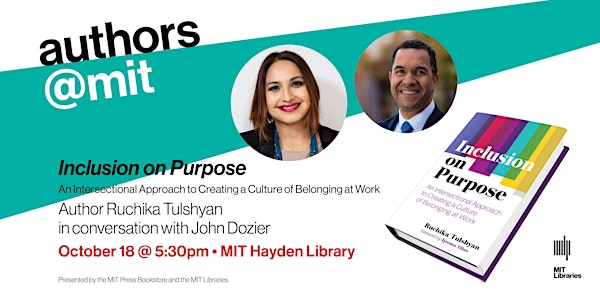 authors@mit presents "Inclusion on Purpose" with Ruchika Tulshyan
Inclusion doesn't just happen; we have to work at it.
When and where
Date and time
Tuesday, October 18, 2022 · 5:30 - 7pm EDT
Location
Massachusetts Institute of Technology 77 Massachusetts Avenue 14S-130 (The Nexus in Hayden Library) Cambridge, MA 02139
About this event
Few would disagree that inclusion is both the right thing to do and good for business. Then why are we so terrible at it? If we believe in the morality and the profitability of including people of diverse and underestimated backgrounds in the workplace, why don't we do it? Because, explains Ruchika Tulshyan in this eye-opening book, we don't realize that inclusion takes awareness, intention, and regular practice. Inclusion doesn't just happen; we have to work at it. Tulshyan presents inclusion best practices, showing how leaders and organizations can meaningfully promote inclusion and diversity.
About the author: Ruchika Tulshyan, an award-winning inclusion strategist and speaker, is CEO and founder of Candour, which works with organizations to create diverse teams and inclusive cultures. A former business journalist, she has reported from four countries and writes regularly on inclusive leadership for the Harvard Business Review. She was named to the Thinkers50 list, a global ranking described by the Financial Times as "the Oscars of management thinking."
Accessibility: Our events are enriched by your presence and we are committed to making them accessible. Assistive listening devices are already available in The Nexus, but please email ce-lib@mit.edu to request any other accommodations.
MIT CovidPass or Tim Tickets with current attestation are required for admittance to the in-person event. You will be issued a Tim Ticket when you register.
The livestream is open to anyone; you will receive a URL when you register.
The authors@mit series is co-sponsored by the MIT Press, the MIT Press Bookstore, and the MIT Libraries. You can learn more about Inclusion on Purpose: An Intersectional Approach to Creating a Culture of Belonging at Work here.
The Nexus is situated on the first floor of the Hayden Library, MIT's Building 14, located at 160 Memorial Drive. The room is on the river side of the library reading room, behind the Courtyard Cafe and across the room from the library service desk. If you have trouble finding it please ask at the service desk.
About the organizer
The MIT Libraries are an engine for creating, sharing, and safeguarding knowledge at the Institute and beyond.