Event Information
Refund Policy
Contact the organizer to request a refund.
Eventbrite's fee is nonrefundable.
Join us from the comfort of your home as we talk with Best Selling Author and former Navy SEAL, Jack Carr.
About this Event
About the Book: It's been twenty years since 9/11. Two decades since the United States was attacked on home soil and embarked on twenty years of war. The enemy has been patient, learning, and adapting. And the enemy is ready to strike again.
A new president offers hope to a country weary of conflict. He's a young, popular, self-made visionary… but he's also a man with a secret.
Halfway across the globe a regional superpower struggles with sanctions imposedby the Great Satan and her European allies, a country whose ancient religion spawned a group of ruthless assassins. Faced with internal dissent and extra judicial targeted killings by the United States and Israel, the Supreme Leader puts a plan inmotion to defeat the most powerful nation on earth.
Meanwhile, in a classified facility five stories underground, a young PhD student has gained access to a level of bioweapons known only to a select number of officials. A second-generation agent, he has been assigned a mission that will bring his adopted homeland to its knees.
The Devil's Hand is a riveting and timely thriller that will leave you gasping for breath.
About the Author: Jack Carr is a New York Times bestselling author and former Navy SEAL. He lives with his wife and three children in Park City, Utah. He is the author of The Terminal List, True Believer, and Savage Son.
About the Presentation: The author will join us for an online discussion. There will be time at the end of the event for Q&A submitted through the chat option of Zoom.
Two Ways to Participate:
1. Join us FREE on the Library's Facebook page, OR
2. Purchase a copy of the book for $21.00 plus Eventbrite fees, to be picked up at your local branch (after the publication release date) and watch through a secure Zoom link.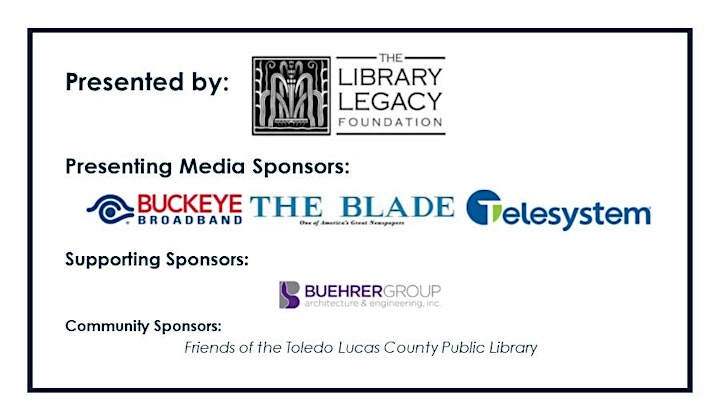 FAQs:
Can registration be made by phone or in person? No, registration can only be made online through Eventbrite.
Do I have to register for the event? If you would like to receive a copy of the book - you need to purchase tickets for the event. If you would just like to view the event you can do so via the Toledo Lucas County Public Library Facebook page.
What happens if I do not receive online access to the event? You will receive reminder emails leading up to the event. If you do not receive the emails - contact 419.259.5199 for assistance.
What time does the event start? The author will be live with us at 7:00 p.m.
Where can I contact the organizer with any questions? Call the Library at 419.259.5199.
I have never used Zoom before - do I need to download anything in order to attend? No. The event can be viewed through a link in your web browser of choice.
Do I need an account in order to be able to attend? No, you don't need a Zoom account to attend the event as an attendee.
Will there be time for a Q&A? Yes! Please use the chat function of Zoom or the Facebook Live option to submit questions throughout the event so our moderators have time to compile them. You can also submit questions for the author during event check out.
Will the event be recorded for registrants who can't attend or have technical difficulties? Yes the event will be recorded and available for viewing on the TLCPL YouTube page after the event.
Date and Time
Location
Refund Policy
Contact the organizer to request a refund.
Eventbrite's fee is nonrefundable.