This amazing event is a Virtual Experience and is FREE. See details on how you can win a FREE gift.
About this event
BOOKS BY THE PUBLISHED AUTHORS
Sheila Burke, is the author of several children's books, she will be reading excerpts from Jady Wady and the Bed Bugs.
Juanita Grant, Contributing Author, Game Changer Life, The Anthology, 22 Extraordinary People Sharing their Defining Moment That Changed The Game.
Cordelia Moye has authored several books. She will be reading excerpts from, A Letter from Orchid. A woman is on the verge of turning 40 and has to address the past in order to move forward in life.
Lynn Means, Christianity or Insanity 'Finding Your Truth to Freedom. The author speaks about how she overcame her childhood and adult challenges to gain a freedom that she always desired.
Advance Registration is Required. To receive the ZOOM link send an email to butterflyfoxxproductions@gmail.com or contact the authors directly.
Listen and Join the conversation. When you register, your email address will be entered into a drawing to receive a FREE gift. Five winners will be randomly selected. All winners will be notified by email on Saturday, October 24th.
Register Now!! The Deadline to enter the drawing is October 21, 2020.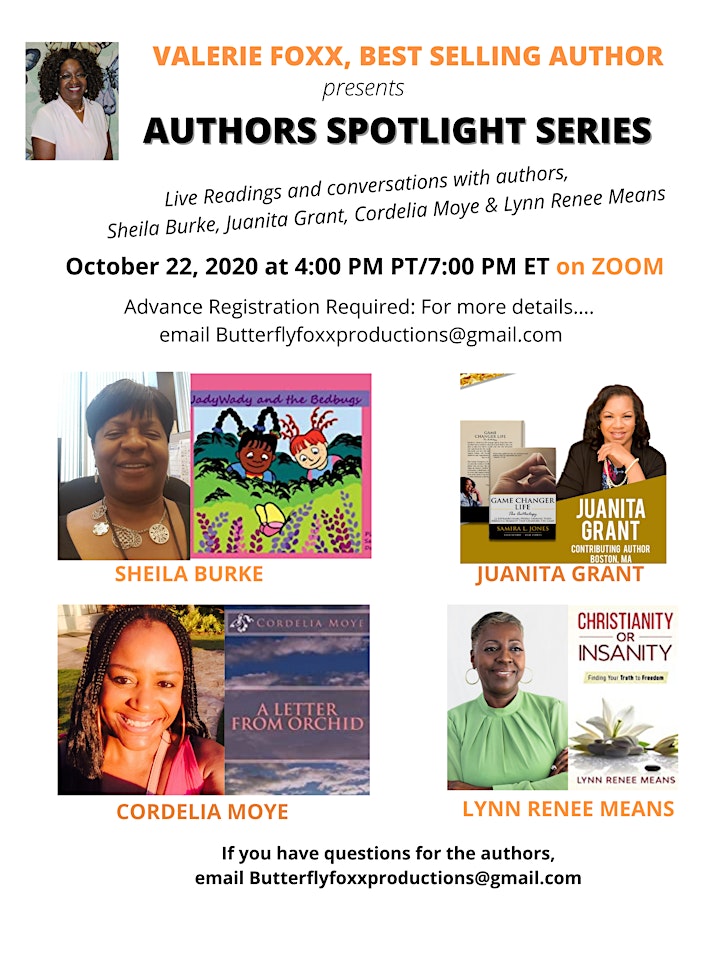 Organizer of Authors Spotlight Series