Description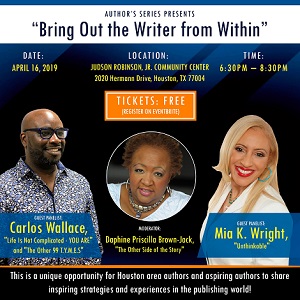 Back by popular demand "Author's Series"! Our theme this year is "Bring Out the Writer from Within". This is a unique opportunity for Houston area authors and aspiring authors to share inspiring strategies and experiences in the publishing world! During this event we will have an panelist for open discussion to answer questions about being an author, becoming an author, tips on how to market, how to use social media, some tips on if your book can be used as a supplemenary reader in schools, colleges and universities and much more! Our guest panelist will be Mia K. Wright - speaker, author of "Unthinkable", life strategy coach, Co-Pastor of The Fountain of Praise and Executive Director of the Metamorphosis Conference Inc. and Carlos Wallace - Author, Entrepreneur, Organizer, Philanthropist and Host: Life Is Not Complicated, You Are (Strong Opinions Podcast) and Moderator Daphine Priscilla Jack - Author, Speaker, Parole Consultant, Author Consultant, Founder of Prevention Zone Inc., and Organizer of Author's Series.
BOOK CLUB AND MEMBERS ARE WELCOME TO ATTEND!
Refreshments will be served !
FAQs
What can I bring into the event?
Please bring two books!
Do I have to bring my printed ticket to the event?
Yes or your mobil ticket