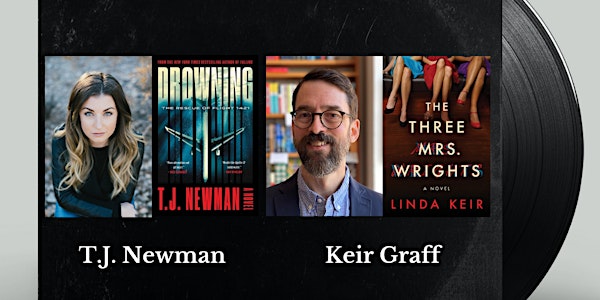 Authors on Tap: T.J. Newman and Keir Graff
Authors on Tap: T.J. Newman and Keir Graff
Date and time
Tuesday, June 6 · 7 - 8pm CDT
Location
Exile in Bookville 410 South Michigan Avenue #suite 210 Chicago, IL 60605
About this event
Please join us in store on Tuesday, June 6th at 7pm to help celebrate T.J. Newman's new novel, Drowning:  The Rescue of Flight 1421. We hosted T.J. for her instant best selling debut novel, Falling, last year and we are thrilled to welcome her back! T.J. will be in conversation with Exile MVP Keir Graff!
About Drowning:  The Rescue of Flight 1421:
Flight attendant turned New York Times bestselling author T. J. Newman--whose first book Falling was an instant #1 national bestseller and the biggest thriller debut of 2021--returns for her second book, an edge-of-your-seat thriller about a commercial jetliner that crashes into the ocean, and sinks to the bottom with passengers trapped inside, and the extraordinary rescue operation to save them.
Six minutes after takeoff, Flight 1421 crashes into the Pacific Ocean. During the evacuation, an engine explodes and the plane is flooded. Those still alive are forced to close the doors--but it's too late. The plane sinks to the bottom with twelve passengers trapped inside. 
More than two hundred feet below the surface, engineer Will Kent and his eleven-year-old daughter Shannon are waist-deep in water and fighting for their lives. 
Their only chance at survival is an elite rescue team on the surface led by professional diver Chris Kent--Shannon's mother and Will's soon-to-be ex-wife--who must work together with Will to find a way to save their daughter and rescue the passengers from the sealed airplane, which is now teetering on the edge of an undersea cliff. 
There's not much time. 
There's even less air. 
With devastating emotional power and heart-stopping suspense, Drowning is an unforgettable thriller about a family's desperate fight to save themselves and the people trapped with them--against impossible odds.
About T.J. Newman:
T. J. Newman is a former bookseller and flight attendant whose first novel Falling became a publishing sensation and debuted at number two on the New York Times bestseller list. The book was named a best book of the year by USA TODAY and Esquire, among many others, and has been published in over thirty countries. The book will soon be a major motion picture from Universal Pictures. T. J. lives in Phoenix, Arizona. Drowning is her second novel. 
​​​​​​​About Keir Graff:
Keir Graff has published twelve novels under three different names. His most recent works include The Three Mrs. Wrights, Drowning with Others and The Swing of Things, all coauthored with Linda Joffe Hull as Linda Keir. A Montana native, he is the editor of the anthologies A Million Acres: Montana Writers Reflect on Land and Open Space, and with James Grady, Montana Noir. Graff lives in Chicago, where he is the cohost of the popular Publishing Cocktails events. You can find him on Twitter (@KeirGraff), Instagram (@KeirGraff), and at www.keirgraff.com.
About the event:
This event is free and registration is required.  Click on the link below to register for free.  T.J. and Keir will be happy to sign/personalize copies of their books after the event! Can't make it to the event?  We will have signed copies available in store and online and ship nationally!