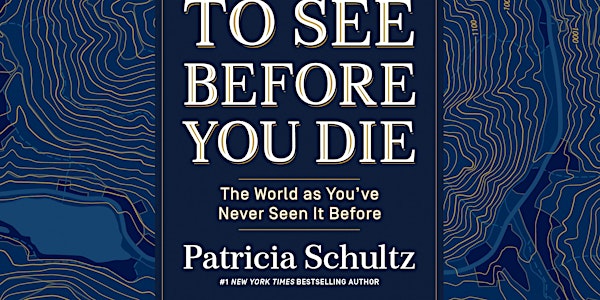 Authors Group Presents Patricia Schultz, 1000 Places To See Before You Die
Location
Union League Club of Chicago
65 W. Jackson Blvd.
Chicago, IL 60604
Refund policy
Contact the organizer to request a refund.
Eventbrite's fee is nonrefundable.
The world is calling...Time to answer.
About this event
The Author...Patricia Schultz
Patricia Schultz is the author of the #1 New York Times bestsellers 1,000 Places to See Before You Die and 1,000 Places to See in the United States and Canada Before You Die. A veteran travel journalist with over 30 years of experience, she's written for Frommer's, Berlitz, and Access travel guides, as well as the Wall Street Journal, Condé Nast Traveler, and Travel Weekly, where she is a contributing editor. Her home base is in New York City, but good luck finding her there.
The Book..."1000 Places to See Before You Die"
Patricia Schultz curates the world. When she published the original 1,000 Places to See Before You Die, she created not only a new kind of travel book but also a new way of thinking about our experiences and interests. Now, in 1,000 Places to See Before You Die (Deluxe Edition): The World as You've Never Seen It Before, the first-ever photo-driven edition of the world's #1 bestselling travel book, Schultz captivates our hearts in the same compelling way her original book spoke to our minds. Moving from eloquent word to breathtaking image, she takes us on a visual journey of the best the world has to offer, and as we turn the pages and pore over these images, we feel it all: joy, curiosity, awe, passion, nostalgia (if we've been there), inspiration (because we want to go), and a profound and transforming sense of how lucky we are to live in a world filled with such beauty and wonder—to see tributaries of mist curling over the Great Wall, elephants grazing on the floor of the Ngorongoro Crater, the sun setting on the wild coast of Donegal, masked whirling dancers at a festival in Bhutan. The book itself is a thing of beauty, an oversize feast of more than 1,000 all-new photographs and 544 pages, every spread and page designed to showcase these mesmerizing photographs and hold just enough of Schultz's lively text that we know why it is we're looking at them. It is a perfect gift for every traveler, every fan of the original, every dreamer whose Instagram feed is filled with pictures of places near and far.
The Event.. Luncheon and Program Begins at 11:30 a.m. with registration and book signing, lunch will be served at noon with program starting at 12:20 p.m. The price person will be $35 inclusive and the Club's cancellation policy is in effect. If you or your guest has a food allergy or any questions about the event please let us know by contacting Club Services at 1.800.443.0578. The Club adheres to a no denim or athletic wear dress code. Please share with your guests.