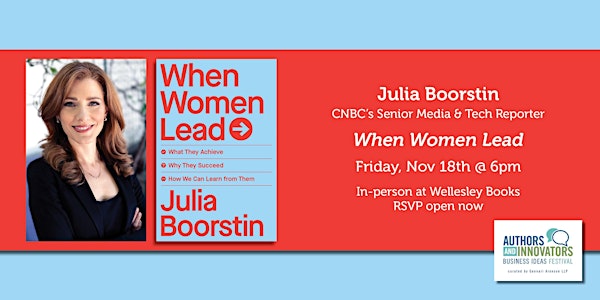 Authors and Innovators: Julia Boorstin
CNBC's Senior Media & Tech Reporter Julia Boorstin joins us to discuss her new book, "When Women Lead".
When and where
Location
Wellesley Books 82 Central Street Wellesley, MA 02482
Refund Policy
Contact the organizer to request a refund.
About this event
This event is part of the Fifth Annual Authors and Innovators Business Ideas Festival curated by Gennari Aronson Business Lawyers.
If you would prefer to RSVP by phone, you may call Wellesley Books at 781-431-1160.
Books will be available for purchase at the event. Please note that you must purchase your copy of the book from Wellesley Books in order to have the author sign it at the event.
COVID Protocols
• Attendees must wear masks at all times during the event.
• Attendees must present proof of COVID-19 vaccination along with a picture I.D.
ABOUT THE BOOK
"Filled with top-notch research, practical insight, and stories from the most inspiring women in business, Julia Boorstin lays out a new, inclusive vision for leadership and our world at large." —Arianna Huffington, founder and CEO of Thrive
A groundbreaking, deeply reported work from CNBC's Julia Boorstin that reveals the key commonalities and characteristics that help top female leaders thrive as they innovate, grow businesses, and navigate crises—an essential resource for anyone in the workplace.
Julia Boorstin was thirteen when her mother told her that, by the time she grew up, women could be just as powerful as men, "captains of industry, running the biggest companies!" A decade later, working at a top business publication and seeing the dearth of women in positions of leadership, Boorstin assumed her mom had been wrong. But over the following two decades as a TV reporter and creator of CNBC's Disruptor 50 franchise, interviewing, and studying thousands of executives, she realized that a gender-equity utopia shouldn't be a pipe dream. Yes, women faced massive social and institutional headwinds, and struggled with double standards and what psychologists call "pattern matching." Yet those who thrived, Boorstin found, shared key commonalities that made them uniquely equipped to lead, grow businesses, and navigate crises. They were highly adaptive to change, deeply empathetic in their management style, and much more likely to integrate diverse points of view into their business strategies, filling voids that their male counterparts had overlooked for generations. By utilizing those strengths, they had invented new business models, disrupted industries, and made massive profits along the way.
Now, in When Women Lead, Boorstin brings together the stories of over sixty of those female CEOs and leaders, and dozens of new studies. Her combination of narrative and research reveals how once-underestimated characteristics, from vulnerability and gratitude to divergent thinking, can be vital superpowers—and that anyone can work these approaches to their advantage. Featuring new interviews with Katrina Lake, Gwyneth Paltrow, Jenn Hyman, Whitney Wolfe Herd, Lena Waithe, Shivani Siroya, Julia Collins, and more, When Women Lead is a radical blueprint for the future of business, and our world at large.
ABOUT THE AUTHOR
Julia Boorstin is CNBC's Senior Media & Tech Correspondent and has been an on-air reporter for the network since 2006. She also plays a central role on CNBC's bicoastal tech-focused program "TechCheck" delivering reporting, analysis, and CEO interviews with a focus on social media and the intersection of media and technology. In 2013, Boorstin created and launched the CNBC Disruptor 50, an annual list she oversees, highlighting private companies transforming the economy and challenging companies in established industries. She also helped launch the network's 'Closing the Gap' initiative covering the people and companies closing gender and diversity gaps. A graduate of Princeton University, she has been a reporter for Fortune magazine, as well as a contributor to CNN and CNN Headline News. She was also an intern for Vice President Gore's domestic policy office. She lives in Los Angeles with her husband and two sons.