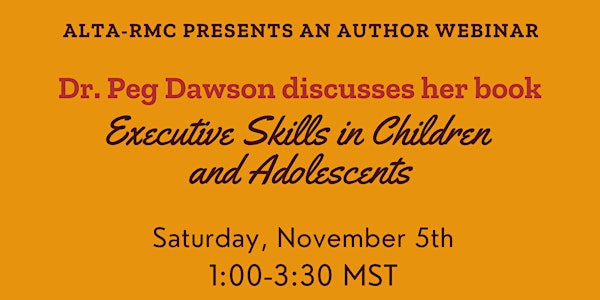 Author Webinar: Peg Dawson "Executive Skills in Children and Adolescents"
Researcher and author Dr. Peg Dawson will discuss central themes and topics from her book "Executive Skills in Children and Adolescents".
Refund Policy
Contact the organizer to request a refund.
About this event
Join ALTA-RMC for a webinar presentation by acclaimed author and researcher, Dr. Peg Dawson. Presentation will be two hours with a thirty-minute Q&A to follow. A certificate for 2.5 ALTA CE's are provided after completing a brief survey.
About Peg Dawson:
"Peg Dawson, EdD, is a psychologist on the staff of the Center for Learning and Attention Disorders at Seacoast Mental Health Center in Portsmouth, New Hampshire. She also does professional development training on executive skills for schools and organizations nationally and internationally. Dr. Dawson is a past president of the New Hampshire Association of School Psychologists, the National Association of School Psychologists (NASP), and the International School Psychology Association, and a recipient of the Lifetime Achievement Award from NASP. She is coauthor of bestselling books for general readers, including Smart but Scattered, Smart but Scattered Teens, Smart but Scattered--and Stalled (with a focus on emerging adults), and The Smart but Scattered Guide to Success (with a focus on adults). Dr. Dawson is also coauthor of The Work-Smart Academic Planner, Revised Edition, and books for professionals including Executive Skills in Children and Adolescents, Third Edition."
About the book "Executive Skills in Children and Adolscents: Third Edition":
"More than 100,000 school practitioners and teachers (K–12) have benefited from the step-by-step guidelines and practical tools in this influential go-to resource, now revised and expanded with six new chapters. The third edition presents effective ways to assess students' strengths and weaknesses, create supportive instructional environments, and promote specific skills, such as organization, time management, sustained attention, and emotional control. Strategies for individualized and classwide intervention are illustrated with vivid examples and sample scripts. In a large-size format for easy photocopying, the book includes 38 reproducible forms and handouts. Purchasers get access to a Web page where they can download and print the reproducible materials.
New to This Edition
*Chapter with guidance and caveats for developing individual education programs (IEPs), 504 Plans, and multi-tiered systems of support (MTSS).
*Chapters on working with students with attention-deficit/hyperactivity disorder (ADHD) and autism spectrum disorder.
*Three guest-authored chapters describing exemplary schoolwide applications.
*More student centered--provides a template for involving children in intervention decision making.
*Fully updated with the latest developments in the field.
This book is in The Guilford Practical Intervention in the Schools Series, edited by Sandra M. Chafouleas." - From Publisher Guilford Press
*Please Note* No refunds will be given for those that forget to enter the ALTA-RMC Member Promo Code for $10 off the ticket price before you submit payment. ALTA-RMC Members can find the Promo Code in the marketing emails sent to our regional membership. If you did not receive the email for some reason and are a member of ALTA-RMC, please message us on Facebook or email us at altarmc.board@gmail.com