Join bestselling author Tracey Enerson Wood discussing her new book The War Nurse. Tracey will be interviewed by Author Julia Kelly
About this event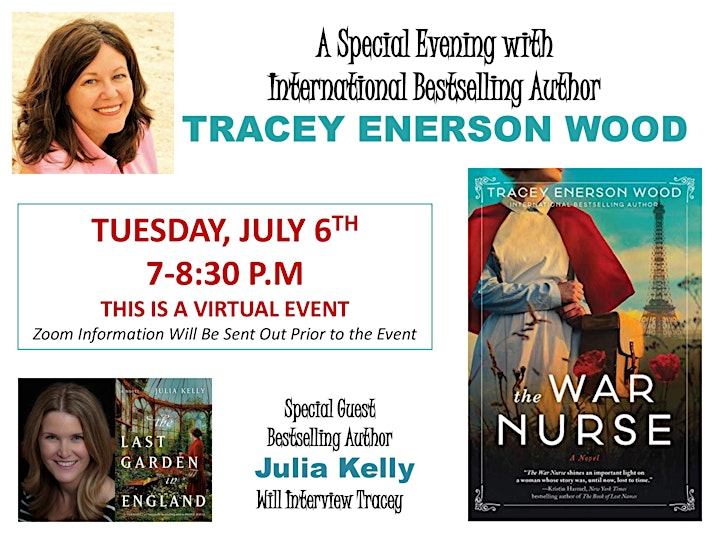 THIS IS A VIRTUAL EVENT. ZOOM INFORMATION WILL BE SENT OUT PRIOR TO THE EVENT.
From the international bestselling author of The Engineer's Wife comes a vibrant and compelling historical fiction novel based on the true stories of the American nurses who served in World War I—battling social norms, brutal injuries, and a mysterious respiratory disease that swept the front lines—and the world. Despite its setting in 1918, The War Nurse is urgent and timely in its celebrations of healthcare workers who fought bravely and steadfastly against an indiscriminate enemy: a pandemic.
Author Tracey Enerson Wood is a retired registered nurse, and she was motivated by those "challenging and unheralded" years to write about her predecessors in the profession. In her research, she learned of Julie Catherine Stimson, who inspired this novel. "I wanted to stay in the same vein as The Engineer's Wife," Enerson Wood writes in her author's note. "That is, to focus on a woman in American history who accomplished amazing things, yet whose story has been lost to time."
Superintendent of Nurses Julia Stimson must recruit sixty-five nurses to relieve the battle-worn British, months before American troops are ready to be deployed. She knows that the young nurses serving near the front lines will face a challenging situation, but nothing could have prepared her for the chaos that awaits when they arrive at British Base Hospital 12 in Rouen, France. The primitive conditions, a convoluted, ineffective system, and horrific battle wounds are enough to discourage the most hardened nurses, and Julia can do nothing but lead by example—even as the military doctors undermine her authority and make her question her very place in the hospital tent.
When trainloads of soldiers stricken by a mysterious respiratory illness arrive one after the other, overwhelming the hospital's limited resources, and threatening the health of her staff, Julia faces an unthinkable choice—to step outside the bounds of her profession and risk the career she has fought so hard for, or to watch the people she cares for most die in her arms. Based on a true story, THE WAR NURSE is a sweeping historical novel that takes readers on an unforgettable journey through WWI France. Cameos from Emily Warren Roebling, Claude Monet, and Marie Curie add further historical resonance to this energizing tale.
Tracey Enerson Wood is the USA Today bestselling author of The Engineer's Wife and The War Nurse. She has always had the writing bug, and while working as a Registered Nurse, starting her own Interior Design company, raising two children, and bouncing around the world as a military wife, she indulged in her passion as a playwright, screenwriter and novelist. Other passions include food and cooking, and honoring military heroes. Her co-authored anthology/cookbook Homefront Cooking, American Veterans share Recipes, Wit, and Wisdom, was released by Skyhorse Publishing in May, 2018, and all authors' profits will be donated to organizations that support veterans. A New Jersey native, she now lives with her family in Florida and Germany.
Julia Kelly is the award-winning author of books about ordinary women and their extraordinary stories. In addition to writing, she's been an Emmy-nominated producer, journalist, marketing professional, and (for one summer) a tea waitress. Julia called Los Angeles, Iowa, and New York City home before settling in London. Readers can visit JuliaKellyWrites.com to learn more about all of her books and sign up for her newsletter so they never miss a new release.
Organizer of Author TRACEY ENERSON WOOD Interviewed by Author JULIA KELLY