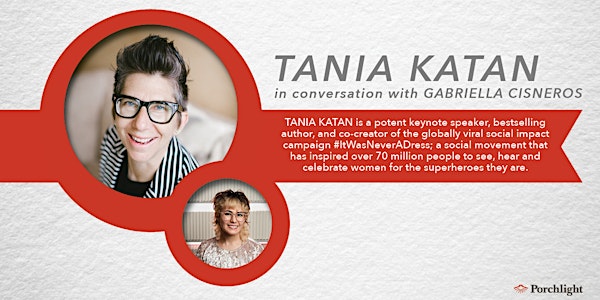 Author Tania Katan in Conversation with Gabriella Cisneros
A virtual interview with Tania Katan, whose book CREATIVE TRESPASSING was named best Innovation & Creativity book of 2019 by Porchlight.
About this event
"You don't have to turn into a corporate drone to kick ass in the working world," says Tania Katan. After more than ten years of smuggling creativity into the business sector without getting busted, Katan is here to tell you that any task or pursuit can be a creative one. You just need to be willing to defy conformity and be ready to conjure imagination anywhere, at any time.
If you're feeling stuck in a dullsville job, a windowless cubicle, or an ill-fitting polyester work shirt, chin up! Katan has been there, too, and she's lived to tell the story. How? By choosing to stand out rather than fit in, to find her light, and to bask in it with all of her quirks and flaws. "The moment you choose to let the world see the real you—messy, imperfect, warts and all," she says, "is the moment you choose to shine too."
Whether you're an entrepreneur seeking new ways to innovate, a newbie trying to spice up routine entry-level work, a free spirit with a rich creative life outside the office looking to bring more of that magic into your job, or just someone who occasionally feels the urge to scream "Why does it say paper jam when there is no paper jam?!!," Katan will show you how to transform monotony into novelty and become more energized in your work and in the world.
Peppered with stories of her own shenanigans—from organizing a wrestling match in the middle of an art museum to staging a corporate culture intervention via post-its—and lessons from the rule-breaking exploits of artists, change-makers, and totally legit business leaders alike, Creative Trespassing: How to Put the Spark and Joy Back Into Your Work and Life is a rollicking, uninhibited guide to using creativity as fuel for a freer and more joyful life.
→ Order a copy of Creative Trespassing from your local bookstore or bookshop.org: https://bit.ly/3Ogv22Q
→ Learn more about Porchlight and our services for authors, publicists, publishers, and readers: https://bit.ly/3sPUWBX
TANIA KATAN is an inspirational speaker, speaking coach, and creative consultant who believes in storytelling at all costs! She has been a featured speaker at CiscoLive!, S.H.E. Summit, Landmark Ventures Social Innovation Summit, CreativeMornings, Comedy Central Stage, TEDx, and more. And her productive disruptions have been covered by the New York Times, USA Today, HuffPost, Glamour, Time, ReadWrite, Adweek, BuzzFeed, Mashable, USA Today, CNN, and more. Katan's B.A. in theater has turned out to be more lucrative than any disparaging academic adviser could have imagined!
Tania will be in conversation with Porchlight's Creative Director Gabriella Cisneros.
GABRIELLA CISNEROS is a moderately bilingual artist whose passion for storytelling extends from reading to filmmaking, video editing, writing, photography, and social media. Working at Porchlight is kind of a dream job for someone who has a 55 page, indexed document of interesting words she's found in books. Gabbi regularly makes time for taking photos, traveling, attending concerts, trying new restaurants, blogging, fitness, and—of course—reading.