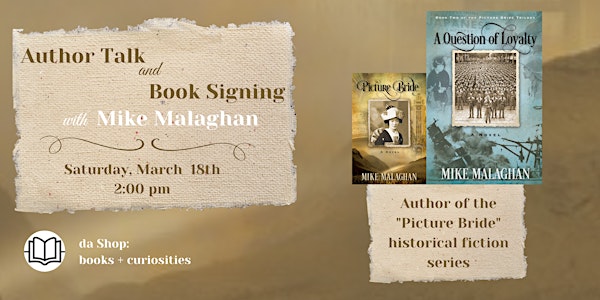 Author Talk with Mike Malaghan
Join da Shop for an author talk with Mike Malaghan, author of the bestselling Picture Bride historical fiction series.
By da Shop: books + curiosites
When and where
Date and time
Starts on Saturday, March 18 · 2pm HST
Location
da Shop: books + curiosities 3565 Harding Avenue Honolulu, HI 96816
About this event
We have another wonderful author talk, this time with the awesome Mike Malaghan. He is the author of the bestselling Picture Bride trilogy. He will be discussing his newest book A Question of Loyalty (the second installment in the trilogy) and signing books! Come on by for a great event!
About A Question of Loyalty:
A Question of Loyalty celebrates the "no retreat" Japanese Americans who fought the war on two fronts—from the heroics of the famed 100th Battalion on the battlefields of Italy to the bitter struggle against dishonor and humiliation at home.
In this blockbuster sequel to his best-selling novel Picture Bride, Mike Malaghan continues the story of Haru Takayama, the proud Japanese immigrant who makes Hawaii her home and raises her children as loyal Americans. But Haru's world changes forever when Japan attacks Pearl Harbor, her husband is arrested and a son is discharged from his ROTC unit simply for wearing the face of the enemy, and two other children find themselves trapped in Japan.
About the Author:
A lover and reader of history, author Mike Malaghan has visited 203 countries and territories, beginning with Africa in 1966 during his service in the Peace Corps. Born in Wisconsin, and raised in Florida from age twelve, he paid his way through the University of Florida by selling books door to door. Malaghan finished his 41-year business career as president of a Walt Disney licensee in Japan and Taiwan. His legacy business book, Making Millions in Direct Sales, was published in 2005 by McGraw Hill.
About da Shop:
da Shop: books + curiosities is Honolulu's favorite community bookstore. Located in Kaimuki and uniquely curated for locals, da Shop is where books, print publishing, and community converge to celebrate independent bookselling, books as artifacts, and bookstores as a cultural space where anyone may encounter ideas to enrich and inspire their lives.
About the organizer

da Shop: books + curiosities, based in Kaimuki, is an eclectic retail bookshop designed for Hawaiʻi, featuring Hawaiian and Oceania titles, a deep selection of bestselling national and international literature, cookbooks, biographies, award-winning children's books and access to a digital database of over one million titles. Launched four years ago as an offshoot of Hawaiʻi based publisher Bess Press, da Shop is open from 11 am – 4 pm, Tuesday through Sunday.

Monthly author events showcase Hawaiʻi based and international authors.