Description
From the time we are young, girls are pressured into a set belief of beauty standards. Hair is certainly high on the list and is often labeled as our "crown and glory." Where does this notion fit for females with alopecia (the partial or complete absence of hair from areas of the body where it normally grows; baldness)? This new photography book should bring light to the issue.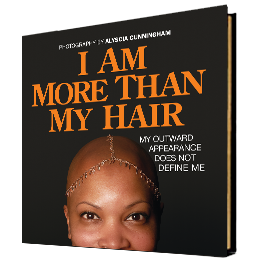 The author, Alyscia Cunningham, will present her newly released photography book and upcoming documentary film, I Am More Than My Hair: My Outward Appearance Does Not Define Me, and her research, message and position on redefining beauty and female hair loss. Female baldness isn't always related to cancer.
Q&A and book signing to follow.
If you're unable to attend but would like to support Cunningham's upcoming documentary film, please make a tax-deductible donation at www.docsinprogress.org/hair. To find out more about Alyscia and her project, visit www.Alyscia.com.