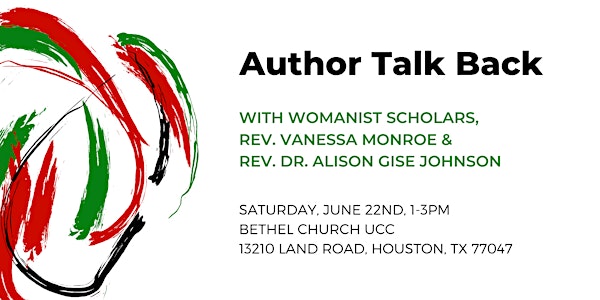 Author Talk Back
When and where
Location
Bethel Church UCC 13210 Land Road Houston, TX 77047
Description
"Womanism requires that we stress with urgency the African American women's movement from death to life...We investigate contestable issues according to the official records, which seldom offer any indication why things have gone wrong nor why benefactors of oppression strive to maintain certain principles, values, and taboos as the center of social reality. In other words, womanist religious scholars insist that individuals look back at race, sex, and class constructions before it is too late and put forth critical analysis in such a way that the errors of the past will not be repeated." - Katie Cannon
In celebration of Juneteenth and in honor of the many unnamed women who worked for our liberation, come participate in a dynamic conversation with womanist scholars, Rev. Vanessa Monroe and Rev. Dr. Alison Gise Johnson. The authors will discuss how they came to co-write "Exodus Women," and how these ancient HERos speak to contemporary women about leadership, community building and doing the work our souls require. This book is the first in a six-book series about ordinary women who did extraordinary things to support the liberation of their people as told in the Bible.
The talkback will be hosted and held at Bethel Church UCC, a radically inclusive community embracing the liberating gospel of Jesus Christ.
Books may be purchased in advance or at the event. You do NOT have to have read the book to participate in this event.
Please bring your journal and join us for a time of reflection and inspiration.

Refreshments will be provided. Admission is free!
Join us in pre-conversations on the Facebook event page to learn more about the authors, womanism and more.
A note: In Houston, Juneteenth was initially celebrated at Emancipation Park, a plot of land purchased by former slaves. While four prominent men are listed as leading that effort, we know that countless women helped make the land purchase and maintenance a reality. If you are interested in supporting the ongoing programming at the park, you can make a donation in any amount here: http://emancipationparkconservancy.org/support-the-park/#1490741281601-ba68c3d3-09f2.