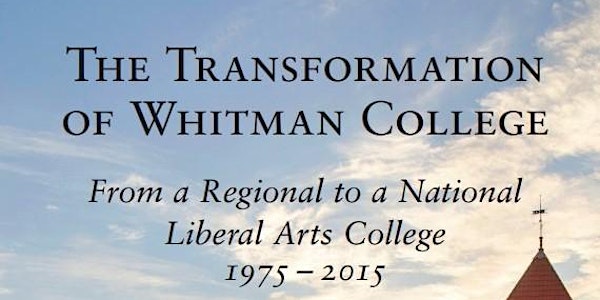 Author talk and book signing with Professor David Schmitz
The Transformation of Whitman College: From a Regional to a National Liberal Arts College, 1975-2015
When and where
Location
Seattle Art Museum 1300 1st Ave Pletscheeff Auditorium Seattle, WA 98101
About this event
Alumni, parents, and friends of Whitman College are invited to celebrate the release of The Transformation of Whitman College: From a Regional to a National Liberal Arts College, 1975-2015, the third volume of the history of Whitman College written by David F. Schmitz. Professor Schmitz will speak about the book and its writing, followed by time for him to sign your copy of the book if you order one.
For the safety of our guests, we are requiring that all attendees be fully vaccinated and boosted (if eligible) and provide documentation of COVID-19 vaccination upon arrival at this event. A digital photo, photocopy, or physical vaccination card is sufficient. We will also be following all local procedures and mandates. Additionally, to minimize the chance of spread, we will not be providing food or beverages.
Kindly RSVP by April 6, using this form as space is also limited. You may order the book from the Whitman Bookstore and have it shipped directly to you. Books will not be sold on-site.
From the Foreword written by Robert Allen Skotheim, president of Whitman College 1975-1988:
Distinguished scholar and Professor of History David Schmitz interprets Whitman's evolution between 1975 and 2015 as a conservative transformation built upon Penrose's foundation. Increasing professionalization is pervasive. Schmitz emphasizes the growing expectation for professional activity by professors, which was added to the expectation for teaching effectiveness. Teachers came to be distinguished scholars and artists. Administrators and staff members came more and more to be professional managers. "Mom and Pop" offices recruiting students and funds evolved into data-driven research centers comprising large staffs.
Several factors contributed to the collegiate transformation Schmitz describes. The intentionally constructed community envisioned by Penrose in a turn-of-the-nineteenth-century environment was re-envisioned during my tenure and those of my successors in a late-twentieth-century environment, and after the year 2000. A rare higher education experience for a small part of the secondary school graduates in 1900 had become a competitive marketplace for a majority of high schoolers seventy-five years later. American society had become affluent, and its ambitious middle class regarded higher education as the path to even greater success for its children. The demographic bulge after World War II, fed by affluence, created a consumer appetite for amenities in the learning environment. The individualism in student rights defied traditional patterns of deference. New prerogatives were demanded, and new faces were prepared to take a place at the table occupied almost exclusively by traditional white males.