Location
Bookmiser-East Cobb
3822 Roswell Road
ROSWELL RD. @ ROBINSON RD.
Marietta, GA 30062
Join best selling local author SUSAN SANDS, celebrating her new book SECRETS OF CYPRESS BAYOU
About this event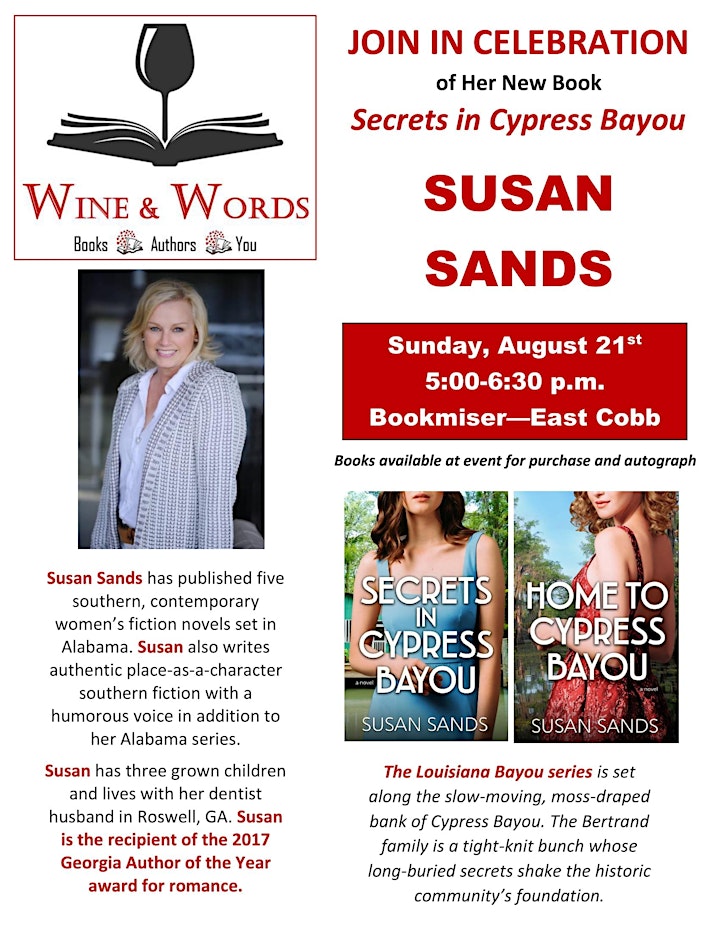 ABOUT THE BOOK
Some secrets are buried deep…
When newly minted attorney Carly Bertrand returns to Cypress Bayou, Louisiana, to be close to her family, her first priority is finding a job. She's shocked to get an offer from her childhood crush, Tanner Carmichael, whose town roots are as deep as hers. Carly accepts, confident she can help Tanner get his new law practice up and running, and keep her attraction to him under lock and key. She's no longer a starry-eyed teen admiring from afar.
Their first client is a woman searching for her birth mother who mysteriously disappeared decades ago without a trace. Carly and Tanner take the case and soon find themselves drowning in a swampy patch of secrets, political corruption, and danger. And the further they dig, the more it looks like Tanner's powerful, narcissistic father is involved.
As they work to unravel the mystery, Carly's old feelings resurface and Tanner can't believe the shy girl next door has become such a brilliant, beautiful, and determined woman. Should they risk everything for the truth, including their hearts, or settle for safety?
ABOUT THE AUTHOR
Susan Sands grew up in a real life Southern Footloose town in Northwest Louisiana, complete with her senior class hosting the first ever prom in the history of their tiny public school with half the town chaperoning. Is it any wonder she writes Southern small town stories full of porch swings, fun and romance?
Susan lives in Roswell, Georgia with her husband, Doug, their Labradoodle, Watson, and lots of material for her next book. Her three adult children are in various stages of finishing college and getting off the payroll.