Author RONA SIMMONS Celebrates the ATLANTA LAUNCH of A Gathering of Men
Join local author RONA SIMMONS as she celebrates the Atlanta launch of her new book A Gathering of Men
About this event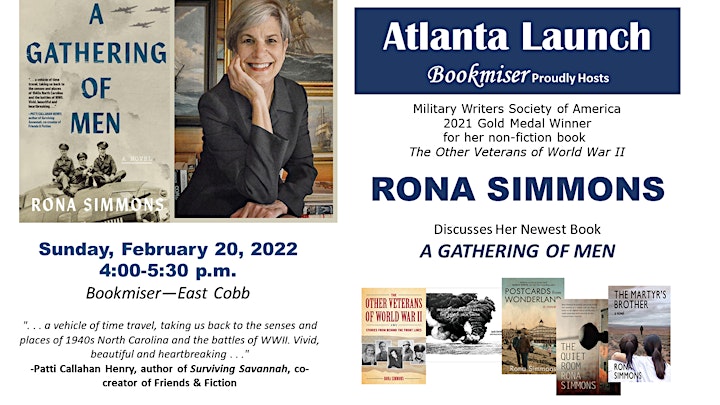 About the Book:
Candor, North Carolina. Saul Levitt, the town's barber, brandishes a copy of the May 1927 Charlotte Observer in front of his customer's nose. On the front page, Charles Lindbergh's Spirit of St. Louis on its cross-country flight. And at the outskirts of town, best friends Lake, Roger, and Jim take turns in their improvised, wheeled but wingless crate, hurtling down hill, eyes closed, imagining their future alongside Lindy.
Pearl Harbor changes everything, the country, the townspeople, and the boys. The boys will have their chance to fly, not over North Carolina farm fields, but across Germany on bombing runs to Berlin and Merseburg and Schweinfurt facing a determined Luftwaffe. The odds of completing their tours of duty in the US Army Air Forces are slim.
Told from Lake's perspective, A Gathering of Men is the account of the boys who boarded their aircraft for the first time and the men they became in the blink of an eye. The terrors they witnessed and the pressure to go up again and again and again brought them to the breaking point. It is a moving tale, based on a true story, about shattered dreams and enduring friendship, duty, and honor.
About Rona:
Rona Simmons is an author of both historical fiction and nonfiction. Her first published works were novels, and primarily works of historical fiction set in the first half of the last century. "The sweep of events, from the First World War to the Great Depression, to World War II, had momentous impact on our lives," she says, "and is a period we can still almost reach with our fingertips."
In 2016 she met and befriended WWII veteran and artist Jack Smith. Together they produced the book Images from World War II: The Art of Jack Smith (Cyrilla, 2016) celebrating the art of the nonagenarian. Then, Simmons again turned to the Second World War for her book, The Other Veterans of World War II: Stories from Behind the Front Lines(Kent State University Press, 2020).
Her latest book, A Gathering of Men (to be released by Koehler Books in early 2022), combines her interest in the World War II era and her passion for history and research to tell another story with a unique perspective on the war. This time, the tale is historical fiction, but based on a true story and countless hours spent in the library and our nation's WWII museum archives.
Simmons is a frequent speaker on WWII and veterans stories as well as writing, blogging, editing, and marketing. She blogs about World War II-related topics on Gone for a Soldier. Her stories, articles, and interviews have been published in literary journals and online magazines, and in local newspapers.
To give back to her local writing community, Simmons has hosted multi-author events for non-profit organizations, libraries, and theaters and featured local authors in online social media events. She created and managed both The Book Widows and The Killers Next Door, groups of Georgia authors who spoke at bookstores, libraries, and festivals. On a pro bono basis, Simmons has given her time and expertise to the Georgia Council for the Arts, the Atlanta Chamber of Commerce's Arts and Business Council, The Gilmer Arts Council, volunteered as a (successful) grant writer for the Dahlonega Literary Festival, and served as co-director for the Milton Literary Festival. Simmons currently acts as a contributing writer for two military-related organizations: DODReads.com (dedicated to reading and lifelong learning) and StoriesBehindtheStars.com (with a mission to document the lives of all of America's fallen in WWII).
Rona Simmons graduated from Tulane University and received her post-graduate degree from Georgia State University. She spent thirty-years in business, ending with a period as a business consultant for International Business Machines and retired to north Georgia where she launched her second career in writing.
Organizer of Author RONA SIMMONS Celebrates the ATLANTA LAUNCH of A Gathering of Men