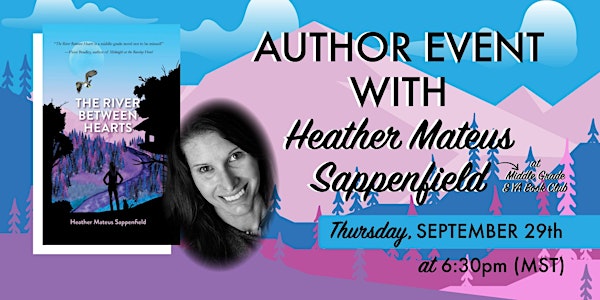 Author Event with Heather Mateus Sappenfield at the Middle Grade Book Club
A discussion between an author and middle reader book lovers!
When and where
Location
Second Star to the Right Children's Books 1455 S. Pearl Street Denver, CO 80210
About this event
ABOUT THE AUTHOR:
Heather Mateus Sappenfield loves adventures, especially in the Rocky Mountain landscape that's been her lifelong home. Her writing has been a finalist for the Colorado Book Awards, a finalist for the Kraken Prize, winner of the V Press Compilation Book Prize, finalist for the Flannery O'Connor Award, winner of the Danahy Fiction Prize and the Arthur Edelstein Award, and she is a six-time Pushcart Prize nominee.
ABOUT THE BOOK - The River Between Hearts
On an ordinary Monday, Rill Kruse left for third grade with a dad, but when she came home, he'd been stolen. By a river. One year and thirteen days later—on the first morning of summer vacation—Rill still insists he's trudging home. Her mom has become a practical woman. Her older brother, Eddy, now calls her baby and dork. Gus, second-in-command at Kruse Whitewater Adventures, Rill's family's rafting company, has gone from being her dad's "risk bro" to her mom's guardian angel. Joyce, company secretary, arm-wrestler, and mechanic, still calls Rill a fingerling, but, after learning what a cheater water is, Rill wishes she'd stop. When Rill's cat, Clifford, leads her to the family tree fort on the mountainside behind home, she discovers a stowaway, Perla. To help Perla, Rill embarks on an adventure that tests her understanding of the world, of loss, and of what it means to be a friend. In the end, what Rill discovers will nudge her—and all those she loves—toward healing.