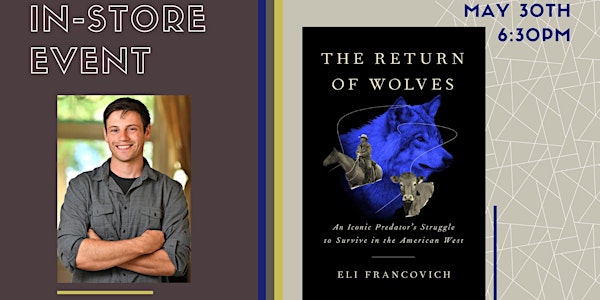 Author event: The Return of Wolves by Eli Francovich
Join Spokesman Review writer Eli Francovich to discuss his book, The Return of Wolves.
Date and time
Tuesday, May 30 · 6:30 - 7:30pm PDT
Location
Roundabout Books 900 Northwest Mount Washington Drive #110 Bend, OR 97703
Refund Policy
Contact the organizer to request a refund.
Eventbrite's fee is nonrefundable.
About this event
The dramatic story of the return of wolves to Washington state, and the fight to promote peaceful coexistence between cattle ranchers and conservationists.
Uncover on-the-ground reporting on the conflict between conservationists, ranchers, and an iconic predator—and discover the solution that might appease them all.
The gray wolf has made an astonishing comeback in Washington. Nearly eradicated by the 1990s, conservationists and environmentalists have cheered its robust return to the state over the last two decades. But Washington ranchers are not so joyous. When wolves prey on livestock, ranchers view their livelihood as under attack.
In The Return of Wolves, journalist Eli Francovich investigates how we might mend this divide while keeping wolf populations thriving. He finds an answer in the time-honored tradition of range riding and one passionate range rider, Daniel Curry, who has jumped directly into the fray by patrolling the rural Washington landscape on horseback. Curry engages directly with farmers, seeking to protect livestock from wolves while also protecting and proliferating wolf populations. In The Return of Wolves, we meet an eclectic cast of players—local ranchers, politicians, environmentalists, and everyday folks caught in the middle—and find hope for the future of wolves, and perhaps for our divided nation.
Eli Francovich is a journalist who covers the environment, conservation and outdoor recreation in Washington for the Spokesman-Review, the state's second-largest newspaper. His work has been published in the Seattle Times, the Chicago Tribune, the Miami Herald, the Charlotte Observer, and elsewhere. He lives in Spokane, Washington.
About the organizer
Located in the heart of Bend's NorthWest Crossing Community, Roundabout Books is a full-service independent bookstore. We take tremendous pride in our highly curated selection of new adult and children's books. We also carry a variety of greeting cards, journals, puzzles & games, and related gifts. Our in-store café serves locally-sourced snacks, coffee, tea, wine, and beer for you to enjoy during your stay, and our bookstore offers Free Wi-Fi as well as several cozy chairs and coffee tables.
Roundabout Books is an independently owned bookstore and cafe founded by local resident Cassie Clemans, a former teacher and business owner. The bookstore opened on October 31, 2016. Her vision is to enhance the life of our community by providing a warm and comfortable place where people of all ages are welcome to read, browse, shop for books, meet a friend, or enjoy an event.
The Roundabout Team works hard to plan regular events that are of interest to our community. We host weekly author readings and signings where you can meet your favorite authors in person. We host several book clubs, which are open for anyone to join on a drop-in basis. They meet monthly and include a variety of genres. Twice monthly we bring Storytime to our kids corner for the little ones to enjoy, and often we have children's authors reading in the store on Saturdays. Join us!