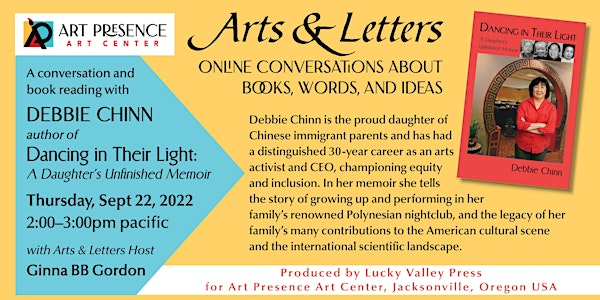 Author Debbie Chinn reads from her memoir: Dancing in Their Light
Online conversations about books, words, and ideas. Produced by Lucky Valley Press for Art Presence Art Center. www.art-presence.org
About this event
A Conversation with Author Debbie Chinn
This livestream hosted by Ginna BB Gordon features California author Debbie Chinn reading from her recent memoir.
Debbie Chinn has had a distinguished 30-year career as an arts activist, a non-profit consultant, and CEO of major arts organizations … championing equity and inclusion.
In this online conversation, Debbie will talk about her book Dancing in Their Light: A Daughter's Unfinished Memoir. It's the story of a proud daughter of immigrant parents, growing up and performing in her family's renowned Polynesian nightclub, and the legacy of her family's many contributions to the American cultural and international scientific landscape – from moo shu pork to NASA's "vomit comet."
Initially intending to document her family's remarkable journey as immigrants in New York, with the renewed rise in anti-immigrant and anti-Asian vitriol, Debbie felt it was especially timely to share what one family could do to assimilate, make significant contributions, and bridge themselves to the larger American culture in an era when the Chinese were not welcome.
==============================
"Growing up in a restaurant and nightclub, selling cigarettes at the age of three, working as a bartender's helper at the age of six, and spending my weekends performing during my teenage years are naturally good fodder for a memoir. There aren't many people whose childhood included learning how to walk on fire..." (from the book)
===============================
ABOUT DEBBIE CHINN:
The proud daughter of Chinese immigrants, Debbie Chinn was born and raised on Long Island, New York. While other children participated in sleep-overs, summer camps, and sports activities, Debbie's childhood was spent at The House of Mah Jong, her family's Chinese restaurant where she entered the workforce at the age of three. Her first job was selling cigarettes. By the age of six, her responsibilities expanded and she spent time on a bar stool inserting umbrellas into cherries and pineapple slices for an assortment of exotic drinks.
Inspired by her childhood experiences , Debbie established a distinguished 30 year career as an arts activist, non-profit consultant, and CEO — leading some of the country's most renowned cultural institutions and their programs. She has long championed equity and inclusion, and she has an insatiable appetite for forging bridges via the arts, humanities, and cultural heritage.
For more information about Debbie Chinn, visit debbiechinn.com.
To buy a copy of the book, please patronize your local bookstore. Follow this link to search for your nearest independent bookstore.
Follow this link for more information about the book, and links to retailers.
-----------------