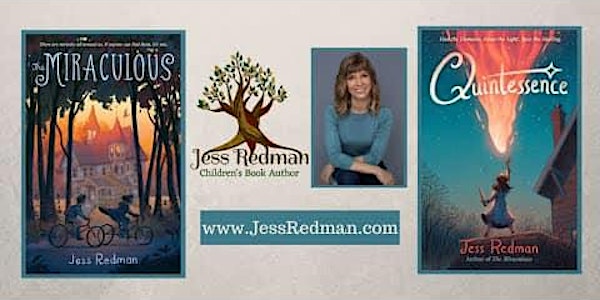 Author Chat with Jess Redman
Please join us for our Author Chat with Jess Redman!
About this event
We're excited to have Jess visit with us Monday night. Jess Redman is a therapist and author of books for young readers with FSG/Macmillan.
Her first book, THE MIRACULOUS, was a Bank Street Best Children's Book of 2019, an Amazon Best Book of 2019, and was called "layered, engaging, and emotionally true" in a Kirkus starred review.
Her latest book, QUINTESSENCE was featured in OwlCrate Jr.'s subscription box and was described as "a fanciful adventure with a rich emotional core and a fairy tale" by Publishers Weekly.
Her third book, THE ADVENTURE IS NOW, is scheduled for publication in May 2021.
In our Author Chat, we'll get to know Jess, her books, and in the process, have a lot of fun!
Register in advance for this meeting:
https://us02web.zoom.us/.../tZctceGqrTIoHdPmcTOzFAA4Kdnvh...
After registering, you will receive a confirmation email containing information about joining the meeting.